Movie theaters serving gourmet eats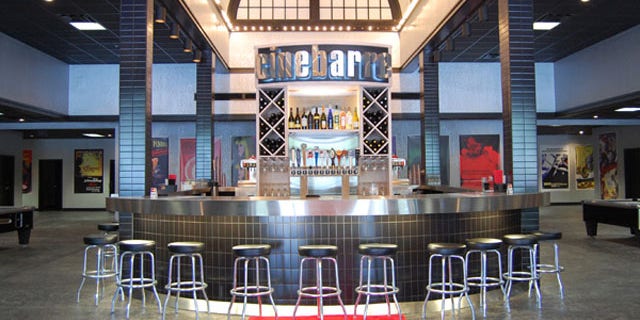 The guilty joy and secret pleasure of indulging in cheap, buttered movie theater popcorn and a mystery-meat hot dog seem to be behind us. How can anyone justify ordering a box of peanut M&Ms and extra-large buckets of popcorn to stuff in our mouths in the dark when theaters are offering homemade pizzas, craft brews on tap, and full-on entrées that they'll even serve during the film? Some places are even curating special menus that pair with whichever movies they're screening, making it extra difficult to say, "I'll have extra nacho cheese (or whatever that orange dip is), please."
Click here to see the 9 Movie Theaters Serving Gourmet Eats Slideshow.
Across the U.S. and throughout London, this dinner-and-a-movie-in-one trend has been slowly building for the last five to eight years, garnering die-hard fans and stark critics along the way. Some lament the increased ticket prices of theaters that add a flat rate for food and drink on top of the regular ticket price, while others see it as a money-saving opportunity and a unique way to have a dinner-and-a-movie date. Plenty of cinemas are meeting in the middle, offering tickets at their usual prices and an à la carte menu so guests can pick and choose, and pay just for what they order.
One of the theaters to first tackle this mouthwatering move was London's Electric Cinema, which sits next door to the endlessly fashionable Electric Brasserie on Notting Hill's Portobello Road. The theater is small, but boasts a long Cinema Bar menu complete with beer, wine, coffee, and tea, as well as gourmet versions of classic movie snacks like candy.
One of the newest to join in on this trend is Brooklyn's Nitehawk Cinema, which prepares a dish and cocktail to pair with each of the movies they screen. They also offer a full menu of non-paired items to order, and of course, moviegoers can mix and match even the paired items. Then, iPic Theatre (formerly called the Gold Class Cinema) in Pasadena, Calif., really takes the whole experience to another level by making guests feel like they're in their richest friend's private screening room. They offer handcrafted cocktails and dishes like steamed pork dumplings, truffle fries, portobello sliders, and barbecued short ribs.
We know… there is no replacing Junior Mints, but we have a feeling it'll be pretty easy to get used to this new standard of movie theater fare.
Cinebarre (Many Locations)
Cinebarre has locations in Asheville, N.C.; Denver; Charleston, S.C.; Salem, Ore., and Seattle offering in-theater waiter service and special nights, like Kids Eat Free Mondays, $2 domestic beer College Nights, and Breakfast Club brunch menus during Sunday matinées. Menu items include a whole range of comfort foods, clever sweets, pizzas, burgers, salads, and brunch items all named after movies or characters.
iPic Theatre, Pasadena, Calif.
The iPic Theatre in Old Town Pasadena is one of the most luxe theaters to serve food and drink to its loyal movie-loving fans. They have fantastically comfortable seats and waiters that serve all kinds of meals and drinks in the theater, like Chinois chicken salad rolls, homemade mozzarella sticks, sweet potato fries, and blackened mahimahi sliders washed down with seasonal, hand-crafted cocktails.
Everymum Cinema, London
Two locations (Belsize Park and Hampstead) of the London chain Everymum Cinemas offer waiter service in-theater, serving snacks and dishes with wine, beer, and cocktails, to moviegoers sitting in stylish reclining sofas. Considering how popular those locations have become (hummus, mojitos, retro movie candies, and the like can do that), we're sure they'll expand the service.
Living Room Theaters, Portland, Ore.
Portland's Living Room Theaters aim to be just that — as comfortable as a living room, though better stocked with food, drink, and huge movie screens. From fresh market salads to seasonal soups and from artichoke dips to a cheese board, it's easier to choose which movie to see than it is to decide on a meal. And their wine list is an eclectic mix of Spanish, Californian, Chilean, and local wines.
More from The Daily Meal:
20 Desserts to Try Around the World
10 Honey Moon Destinations for Food Lovers
World's Most Gut Busting Meals
9 Top Experiences for Coffee Lovers