Most expensive celebrity wedding cakes
Wedding season is here, not just for us normal folk, but also for the rich and famous.
Pinterest activity is at its peak, blogs are becoming fairytale photo albums of couples' big days, and tabloids are abuzz with lavish celebrity unions. We want to live vicariously through those celeb weddings so we ogle their photos, Google the facts, and yearn to taste the towering cakes.
Let's be real, many of us dream about our wedding day our whole entire life — young girls act it out with Barbie and Ken in puffy white dresses and tuxes, and guys think about saving for the ring and wild bachelor parties. But in the end, we want the same things: true love and the perfect wedding day.
But what is sometimes lost in all the fuss over the veil, the suits, and the flowers, is something else just as important if not more, at least to those sweet freaks among us: the cake, that multi-tiered paean to the gods of sweetness, that edible edifice that unifies the theme and gives in to whimsy. Finding exactly the right cake for the occasion can be fraught with peril, from countless tastings to disputes between the love birds to just plain baked good malfunctions, but it's all worth it for the amazing sweet ending.
Imagine what that sweet indulgence could be if your budget was from here to the moon, or if you could spend the dough on batter and frosting rather than paying off loans. Only royalty can drop thousands on a super elaborate wedding cake, or only starlets and "rap gods" can spend what some make in a year on nuptial confections.
Sure, we'd all like to have the wedding of our dreams, but it's celebrities who can afford the cakes of their wildest fantasies, spending nearly the entire salary of the average civil servant to put the icing on their over-the-top wedding cakes.
1. Prince William and Kate Middleton's $80,000 Royal Wedding Cake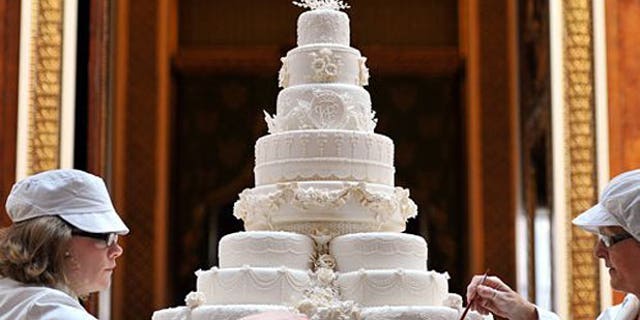 What is a royal wedding without a royal wedding cake?
Prince William and Kate Middleton definitely went all out for their magnificent wedding with an eight-tiered fruit cake with white icing and 900 sugar paste flowers ringing in at a royal $80,000. Designed by Fiona Cairns, the elegant cake included 17 different kinds of symbolic flowers. Displayed on the seventh tier, the English rose, Scottish thistle, Welsh daffodil, and Irish shamrock represented the home nations. On the sixth tier were the elaborately scrolled initials of the couple encircled by sugar lily of the valley flowers, symbolizing sweetness and humility.
And we'll never be royals.
2. Donald Trump and Melania Knauss's Grand Marnier Wedding Cake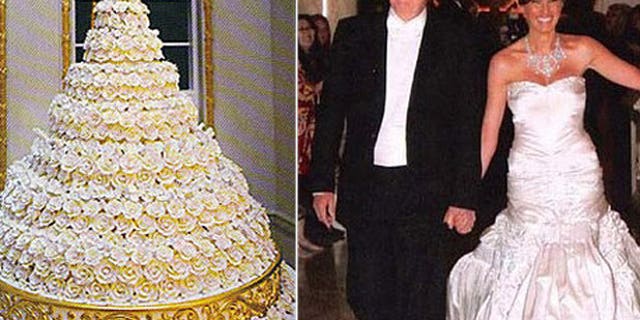 Nothing is good enough for "The Donald," but perhaps his extravagant orange Grand Marnier chiffon wedding cake celebrating his marriage to Melania Knauss was just the ticket. The seven-tiered confection was five feet high, 200 pounds, 32 inches in diameter, covered with 3,000 white icing roses, and filled with Grand Marnier buttercream. The cake took two months for pastry chef Cedric Barbaret to create. On top of all that, wedding guests were treated to individual cakes filled with chocolate truffle and decorated with a single rose on top. Donald Trump is always "thinking big."
3. Princess Diana and Prince Charles's $40,000 Flowered Wedding Cake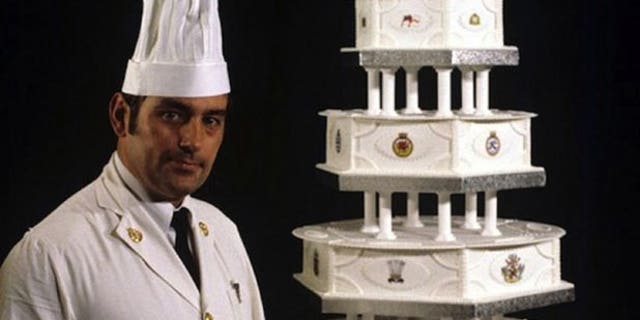 Royal icons Princess Diana and Prince Charles hosted a memorable wedding in 1981, spending over $40,000 on just the cake. The princess could not just have one wedding cake; the matrimonial day included 27 wedding cakes and a five-foot-tall main cake that supposedly took 14 weeks to prepare. The wedding cake, designed by David Avery of the Royal Naval Cookery School, was decorated with roses, lilies of the valley, and orchids, along with the Prince's family's royal coat of arms. Of course a duplicate was made, just in case. P.S., $40,000 then is worth over $100,000 now.
4. Liza Minnelli and David Gest's $40,000 Red Accent Wedding Cake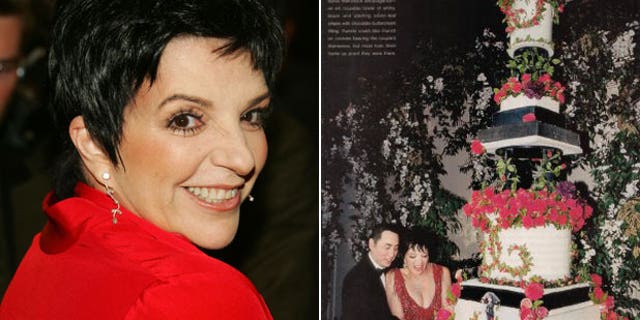 Liza Minelli and David Gest's wedding cake was colorful and full of personality, towering at 12 tiers high. The $40,000 confection was black and white with red accents. Sterling silver leafed stripes appeared throughout the dramatic cake along with the lavish layering of red and purple sugar roses.
5. Michael Jordan and Yvette Prieto Bejeweled Wedding Cake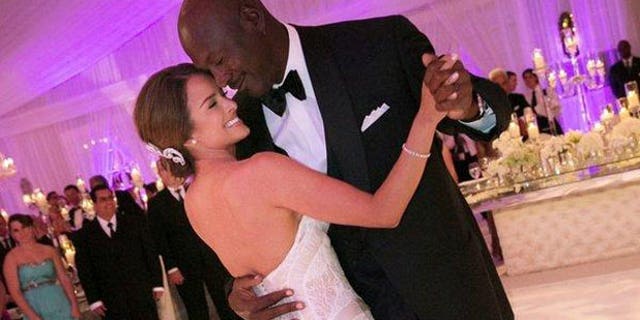 Basketball legend Michael Jordan and Yvette Prieto spared no expense on their wedding, which rang in at a cool $10 million, and their cake was no exception. The all-white, seven-layer white rum wedding cake designed by Edda's Cake Designs was covered in white fondant and sugar crystals, and was adorned with crystal brooches. To top it all off, the couples' monogram was displayed on the top layer.
6. Eddie Murphy and Nicole Mitchell's $25,000 Floral Wedding Cake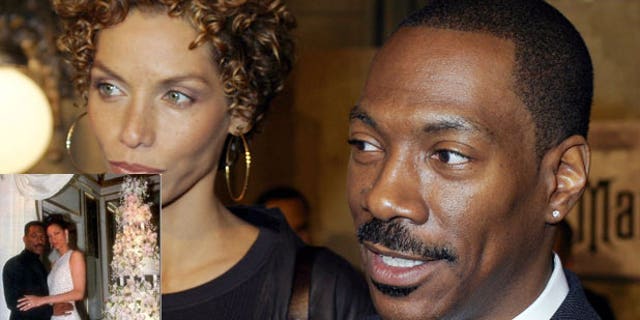 Comedian Eddie Murphy and model Nicole Mitchell went above and beyond on their lavish multi-tiered wedding cake. At $25,000 in 1993, you can only imagine the decadent details of their cake. According to pictures, the ornate cake was beautifully decorated with a multitude of flowers. That's a whole lot of cake.
See more outrageously expensive wedding cakes.
More from The Daily Meal
10 Biggest American Wedding Cakes
10 Wedding Details You Didn't Know Mattered
10 Gorgeous Vintage Wedding Cakes