Mom petitions Girl Scouts to end its sugary milk partnership with Nestle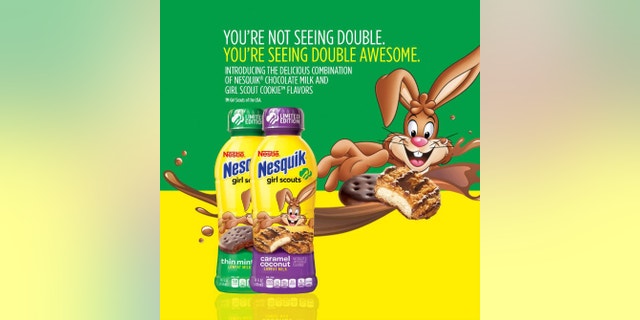 A California mother is petitioning Girl Scouts U.S.A. to end its partnership with food giant Nestle over the high sugar content in its branded cookie milk drinks.
Earlier this fall, Nestle released two Girl Scout Cookie Nesquik products, inspired by the beloved Thin Mints and Samoa cookies. FoxNews.com then noted the high caloric content of the milk drinks.
Monica Serratos, who is also the leader of her daughters' Girl Scout troop in Orange County, noticed the high sugar content when she was shopping and spotted the new product on shelves. Eager to try cookie flavored milk, her kids leapt toward the product, but the mother of four was appalled when she turned the container over and saw how much sugar each drink contained.
Nestle says that each 14 oz drink contains 42 grams of sugar. According to the American Heart Association, children ages 4 to 8 should consume about 12.5 g of sugar per day. That's three times more than the recommended daily amount.
Serratos started a petition she started on Change.org appealing to Girl Scout leaders nationwide, Girl Scouts CEO Anna Maria Chavez and its president Connie Lindsey to end the partnership with Nestle.
"If Girl Scouts continues to partner with companies that market sugary foods/drinks to children, our future generations will surely suffer. We will continue to see a rise in childhood obesity, diabetes and poor health for our children," Serratos wrote in the petition, which currently has over 7,500 signatures.
"Instead of spending their time coming up with the new cookie flavor, ice cream flavor, candy bar or 'flavored' milk, they could focus that energy on more positive ways to earn money, while setting an example for not only the girls, but the nation," Serratos told FoxNews.com. "Imagine if Girl Scouts pioneered a movement for healthier eating and fundraisers that were in line with their core values."
Joanne Crawford-Duner, director of integrated marketing communications for Nestle's U.S. beverage division, acknowledged that added sugar is a big concern for parents but reiterated that the partnership with Girl Scouts was a way to bring "universally loved flavors to their portfolio."
"Many people may be surprised to know that the amount of added sugar in our Nesquik milks is less than that found in popular juice drinks and low-fat fruit-flavored yogurt," Crawford-Duner said. "We're working to reduce sugar... For example, we've reduced added sugar on our Nesquik powder."
We tried to reach out to Girl Scouts U.S.A, but multiple requests by phone and email for comment were not answered.
The cookie milk will only be available in stores for another few weeks and no further Girl Scout product partnerships have been planned, said Crawford-Duner.
Serratos says she has yet to hear from anyone at Girl Scouts U.S.A., but says she will continue to advocate for healthier choices from an organization she cherishes.
"Girl Scouts is a very recognizable organization that provides a lot of opportunities to a lot of girls. It's something we plan on continuing with for a long time," Serratos said. But did reiterate that in her personal opinion "the money earned is in no way a fair trade for any child's health."