MLB suspends 'Papa Slam' promotion after Papa John's controversy: report
NEWYou can now listen to Fox News articles!
Major League Baseball has reportedly suspended its Papa John's promotion Thursday, a day after the company's CEO resigned over using the N-word during a conference call.
MLB had an ongoing "Papa Slam" promotion with the pizza chain, in which people received discounts on pizza when players hit grand slams. When it was revealed that founder and CEO John Schnatter resigned, the MLB suspended the promotion, Yahoo Sports reported.
MLB.com's "Papa Slam" web page was still up as of Thursday. However, Yahoo Sports reported that a grand slam from New York Yankee Greg Bird was not celebrated as a "Papa Slam."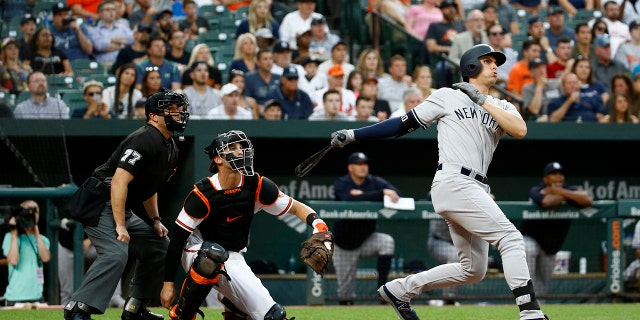 GYM IN 'PAPA JOHN's' FOUNDER JOHN SCHNATTER'S HOMETOWN TO BE RENAMED IN WAKE OF CONTROVERSY, MAYOR SAYS
Other MLB teams have promotions with Papa John's outside the league's own promotions. The Chicago White Sox offer fans a 50 percent off pizza after a win. Each team would have to deal with the company separately, according to Yahoo Sports.
A request for comment from Papa John's was not immediately returned to Fox News.
Schnatter's controversial comment came during a role-playing exercise during a May conference call, which itself was organized in the wake of his comments concerning the NFL, and placing blame on the league's national anthem protests for the company's sales, Forbes reported. During the call, he reportedly said "Colonel Sanders called blacks n------" and never faced backlash.
He also allegedly stated that, in his home state of Indiana, "people used to drag African-Americans from trucks until they died," reportedly intending for the sentiment to convey his opposition to racism.
SEE IT: INNOCENT NOTE WRITTEN ON WOOLWORTH'S PACKAGE MISTAKEN FOR CURSE WORD
Schnatter apologized for the remarks Wednesday. "News reports attributing the use of inappropriate and hurtful language to me during a media training session regarding race are true," said Schnatter in a statement released by Papa John's. "Regardless of the context, I apologize. Simply stated, racism has no place in our society."
Schnatter originally stepped down as Papa John's CEO in December 2017, after claiming that the NFL's handing of player protests contributed to the company's third-quarter earnings slump. Papa John's ended its official sponsorship of the NFL in February 2018.
Fox News' Michael Bartiromo and Janine Puhak contributed to this report.