Miller Park beer vendor buys billboards to encourage fans to buy beer in their seats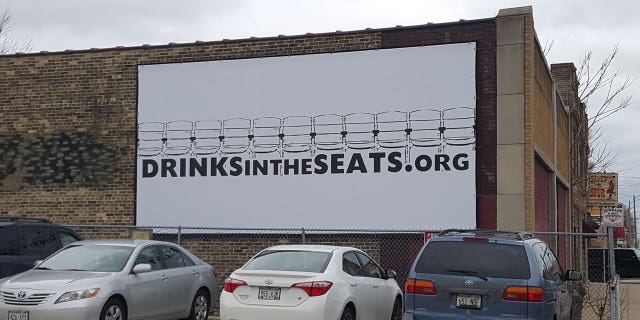 NEWYou can now listen to Fox News articles!
Ryan Strnad isn't too happy with the new concessions area in Miller Park.
Strnad, a Wisconsin native who sells beer in the aisles during Milwaukee Brewers' home games, is claiming that more and more fans are ignoring in-seat beer vendors in favor of purchasing their brews at the newly remodeled concessions stands at the stadium.
"We keep on seeing more competition in the concourses," Strnad tells Fox News. "[It] could potentially take away from the beer vendors' sales."
According to Strnad, in-seat beer vendors like himself have already seen sales dip since the remodeled stands opened at the beginning of the season, but he isn't about to take this slump sitting down — and now, he's trying to earn the support of Brewers fans' via a few well-placed ads.
MLB FINALLY NAMES NATHAN'S AS ITS OFFICIAL HOT DOG
Strnad has recently purchased two large billboards near Miller Park, to encourage baseball fans to visit his website, Drinks in the Seats. He also uses the site to sell t-shirts, the sales of which are helping to fund the said signage.
But Drinks in the Seats isn't just a website or a t-shirt retailer. It's also a limited liability corporation, a registered political action committee, and a conduit. And Strnad is planning to do everything in his power to make the city council — and the beverage providers at Miller Park — take notice of the beer vendors' plight.
"What we're trying to do is alter the [concessions stands'] license," says Strnad," who is also a member of the Service Employees International Union. "Or, eliminate alcohol sales in the concessions stands on levels 1, 2 and 4, so approximately 94 percent [of Miller Park] will have to buy from vendors."
CHINESE FACTORY BUSTED FOR MAKING FAKE BUDWEISER
Strnad notes that he's not hoping to restrict any beer sales on the third level, or in the stadium's TGI Fridays. Party suites and luxury boxes won't be affected by his proposal, either.
That's not to say the other 94 percent of Miller Park won't have access to beer, but rather that more fans will be encouraged to buy beer from in-seat vendors, who work largely on commission and tips. The workers in the concourse's concessions stands, on the other hand, earn an hourly wage regardless of what they sell, says Strnad.
What's more, Strnad believes that the beverage and retail provider of Miller Park — a company called Sportservice, which is owned by the Delaware North Companies — has created a situation where it's more economical for patrons to get up and get their own beer.
As it stands, Strnad says beer vendors sell 16-ounce beers for $8, but concessions stands sell 24-ounce drafts for $8.75. Fans are only allowed to buy two at a time, too, meaning that they can either obtain 32 or 48 ounces of beer per purchase, depending on where they buy.
Strnad also told Fox News that the Brewers, Deleware North and the beer companies are responsible for setting the prices, and he believes the MLB instituted the two-beer-per-purchase rule.
FOLLOW US ON FACEBOOK FOR MORE FOX LIFESTYLE NEWS
For now, Strnad says he hasn't yet seen any response from city officials, but he plans to lobby the Milwaukee City Council on behalf of Miller Park's beer vendors.
In the future, Strnad tells Fox News he hopes to focus his efforts on representing the Milwaukee-area liquor stores which might be interested in supplying the bars at Miller Park.
A representative for Delaware North was not immediately available for comment.