Michigan Buffalo Wild Wings manager fired for choking drunk man in restaurant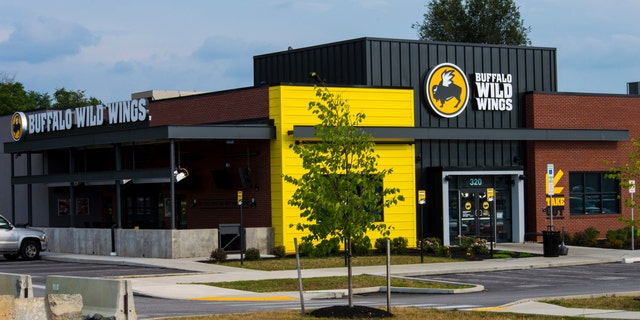 A manager at a Buffalo Wild Wings in Grand Rapids was fired after video of him choking out a "very drunk" man in the restaurant was posted on social media over the weekend.
Surveillance footage captured the Sept. 6 incident. In the video, two employees are seen talking to a man before one of them grabs him by the neck and chokes him unconscious. The man falls to the ground and the two employees appear to drag him outside.
MAN CLAIMS PIZZA HUT PUT HIS PHOTO ON PIZZA BOXES WITHOUT HIS KNOWLEDGE
As of Tuesday, police are still working to identify the victim. However, the company identified one of the employees as being the restaurant manager.
In a statement to Fox News, Jean Lanfear, the vice president of human resources for JK&T Wings, Inc., the franchisee of that particular Buffalo Wild Wings restaurant, confirmed the employee has been fired for his actions.
"We are extremely disappointed by the incident at one of our restaurants and have terminated the manager who does not embody the values of Buffalo Wild Wings. We are now working to locate the person involved."
BUFFALO WILD WINGS GIVES HOMELESS MAN FREE WINGS FOR A YEAR AFTER STAFFER WRITES DEROGATORY MESSAGE ON RECEIPT
Lanfear told Fox News the case was under extreme investigation while the search for the victim is underway.
Lanfear told WOOD "it wasn't the first time" that the "very drunk" man who was choked came into the restaurant and started "creating chaos." She said at one point he went behind the bar area.
The manager's actions have been described by the company as highly inappropriate and he was removed as soon as Buffalo Wild Wings executives saw the surveillance footage.
FOLLOW US ON FACEBOOK FOR MORE FOX LIFESTYLE NEWS
Kennith Herrick, a former Buffalo Wild Wings employee, posted the video on Facebook after another current employee sent it to him.
"There's been a history of incidents in the company and nothing's been done so far," Herrick wrote to 24 Hour News 8, WOOD reported.