Meat me at the Super Bowl, Indianapolis steak and barbecue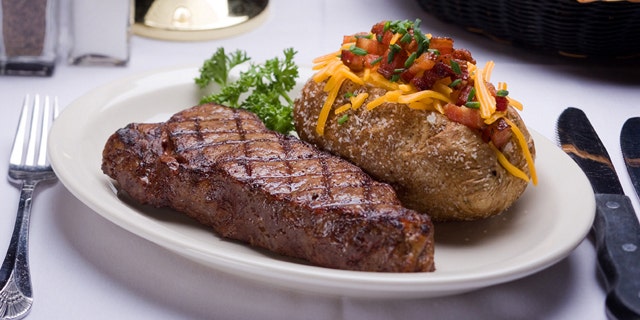 Heading to Indianapolis for Super Bowl XLVI? Before the Giants and Patriots meet, you should enjoy some meat. Allow us to guide you to the best steakhouses and barbecue joints in town. We'll even reveal where you can enjoy grilled pound cake before the G-Men and Pats pound each other.
Steak lovers heading to Indy should make a pilgrimage to downtown's St. Elmo Steak House, which has been making carnivores happy since 1902. The seared steaks are tender, the wine list is impressive, the people-watching is fun, and the sauce on the jumbo shrimp cocktail is hotter than Tom Brady's wife. Athletes who have dined at this legendary steakhouse, besides Eli, Peyton and Archie Manning, range from Mary Lou Retton to Chad Ochocinco. Huddle up around the navy bean soup, then polish off a strip steak or bone-in rib-eye and a baked potato and you'll be ready for the big game. Read the complete restaurant review of St. Elmo Steak House (127 S. Illinois St., 317-635-0636).
If you can't get a reservation at the oldest Indianapolis steakhouse that is still in its original location, visit Dunaway's Palazzo Ossigeno in downtown's beautifully-renovated Indiana Oxygen Company building. (Palazzo Ossigeno translates loosely from Italian as "Oxygen Building," and many of the players will be sucking oxygen by the fourth quarter.) At this steakhouse on the National Register of Historic Places, diners can enjoy their steaks al Forno -- topped with imported Parmesan-reggiano and whole cream sweet butter -- as well as gelato and sorbet made in-house (351 S. East St., 317-638-7663).
For those who want to stick to a familiar game plan, there are plenty of good chains with branches in the city, including Morton's, The Capital Grille, and the all-you-can-eat Brazilian meat temple, Fogo de Chao.
Some tailgaters bring a Weber Grill to stadiums to cook steaks. But at Lucas Oil Stadium, there's a Weber Grill nearby which can feed hundreds of football fans… and none of them has to worry about cleaning up.
Weber Grill Restaurant is from the same company that invented the – you guessed it – Weber kettle grill back in 1952. There are a few locations in Chicago, where they take their barbecue and grilled meats quite seriously, and one just a short walk from the Super Bowl stadium. Besides staples like barbecue ribs and very moist beer-can chicken, the open kitchen also offers grilled shrimp and even wood roasted Prince Edward Island mussels for those who prefer surf to turf. For the last play of the game, try the grilled pound cake topped with fresh fruit, candied almonds and sinfully good bourbon caramel sauce. Read the complete restaurant review of Weber Grill Restaurant (10 N. Illinois St., 317-636-7600).
Whether you spell it barbecue, barbeque, BBQ or just 'cue, visit Squealers for a baby-back slab or rib-tip dinner. At this family-friendly joint, Texas-style meat can be ordered with the sauce on the side. That makes it easier to take leftovers from the generous portions back to your hotel so you can enjoy a late night snack while watching televised highlights of the game. Read the complete restaurant review of Squealers (5515 W. 86th St., 317-871-7427).
MORE ON GAYOT.com
Best Barbecue Restaurants in Indianapolis
Top 10 Steakhouses in Indianapolis
Indianapolis Restaurant Guide