Meal sharing platforms make eating with strangers easier than ever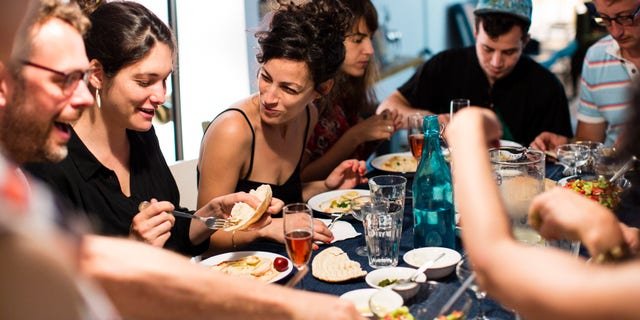 Forget your friend's apartment or your mama's house. The Internet is emerging as the next best place to find a home-cooked meal. Several startup companies have begun connecting home cooks and chefs with hungry diners looking for a unique "eat-in while eating-out" experience. Think Airbnb for food, with business such as Feastly, EatWith, and Kitchen.ly leading the way.
"The common trend, the thing I hear most, is that people love casual entertaining. And they come to these events and meet people who have a shared love of food." 
When Patty Dewey got bored with her normal eating routine—eating out upwards of five times a week—she took to the Internet in search of a way to dine differently. On EatWith she discovered a late night Japanese dinner in Williamsburg, Brooklyn where she and her husband could dine with strangers on a meal prepared in the apartment kitchen of a novice chef.
"It's clever," says Dewey. "I like fun concepts and being out to eat."
The process is straightforward. First you register, which is much like creating any other online profile. Setup is free, but booking a meal comes at a price. Kitchen.ly takes a modest fee of 2.9 percent of the meal price, plus an additional 30 cents per guest. EatWith takes a 15 percent cut, Feastly 20 percent. The host sets the price for the meal, which diners pay online.
For those cooking the meals, these sites provide a platform for them to show off their culinary skills while entertaining a diverse set of people at a fraction of what it costs to run a restaurant.
Food publications are getting into the game, as well. Popular indie mag Kinfolk Magazine began arranging dinners as a way to bring together disparate staff stuck communicating via Skype and Google Chat. After they offered excess tickets to their private dinners to the public, they realized their readers wanted to join in as well. Demand for five tickets quickly exceeded 100 requests. A small meal in Portland, Oregon soon grew to meals hosted around the world.
Julie Pointer, Kinfolk's community director, says she operates as "a hinge" to a great food experience. She organizes the bulk of meals and workshops, and handles most of the logistics. "People learn of tickets primarily though our sites and hosts post on theirs as well," she says.
In a generation where almost everyone has a Facebook, Twitter or Instagram account, it turns out meeting face-to-face over a shared meal is an enduring experienced.
"The common trend, the thing I hear most, is that people love casual entertaining," says Pointer. "And they come to these events and meet people who have a shared love of food."
To make diners feel comfortable about safety and food quality issues, supper club companies inspect homes and encourage guests to give candid reviews. EatWith advertises a $1 million insurance policy and labels certain dining options as "EatWith Verified," – a process in which an anonymous staff member has investigated a location.
Yet, despite these measures, some gatherings may not be legal –depending on the location.
Restaurants owners who serve food and accept payment for it must get permits and licenses, which require them to pass rigorous health inspections. Though specific rules vary by counties and states, food codes generally cover areas that include employee hygiene, food handling, storage and preparation, and equipment standards.
To get around the regulations, some supper clubs accept donations instead of payment, or have people sign waivers.
And while some sites, such as EatWith and Kitchen.ly, boast of having professional chefs, cooking instructors and caterers on their roster, their food service permits don't always include meals they serve and sell in their home.
When asked about the legality of supper clubs, the New York City Health Department said in a statement to FoxNews.com: "People who offer meals to the public for money are, according to State and Local laws, operating food service establishments. In New York State, no one may prepare meals commercially in their homes."
Naama Shefi, EatWith's marketing director, concedes that keeping up with the pace of a booming business is a challenge. EatWith's initial North America rollout has moved so quickly—39 unique eating options in just over a month in 10 new city locations—that getting a clear understanding of laws has lagged behind. When asked about her familiarity with state regulations Shefi says, "EatWith is still learning the ropes."
According to Pointer, there haven't been any instances related to food poisoning. "We generally work with restaurants, professional chefs or caterers," she says. "They manage these specifics themselves." Of the health codes, Pointer says, "people who are adventurous rarely show concern about those things." Still, Kinfolk has guests sign a waiver as a precaution.
People can still find plenty of adventurous meals without the help of intermediaries.
Hush, a Washington D.C. supper club in the home of novice Indian vegetarian cook Geeta (she declined to give her last name), has been running since 2010. Geeta, who offers up authentic Gujarati Jain cuisine, doesn't charge diners for service, but asks for a donation instead. Geeta doesn't use third-party websites to find her guests and takes pride in using a lengthy questionnaire to pull together between eight to 12 diners around three times a month. "Over half are word of mouth—directly from someone they know," she says. She has never had any cases of food poisoning and says the most trouble she has encountered is a weird mix of people who need to be managed.
Seattle-based food and safety lawyer Bill Marler points out that even established restaurants fail to meet health codes. He says the moment a restaurant asks you how you want your burger cooked, they've broken the law. "There shouldn't be any pink inside," he says. Marler prosecuted the infamous Jack In the Box case of 1993, in which over 700 patrons were infected with E. coli and four young children died.
"Waivers are only a way of convincing some people who get sick not to do anything but if you go to someone's house because you hear the food is really good and you pay $100 and you sign a waiver and you get E. coli and your kidneys fail, the waiver is not going to really mean anything."
For now, many seem willing to take on these risks.
"Maybe the trust factor is a little different because you are going into someone's home," says Dewey. "So I guess until something really bad happens, it will continue."