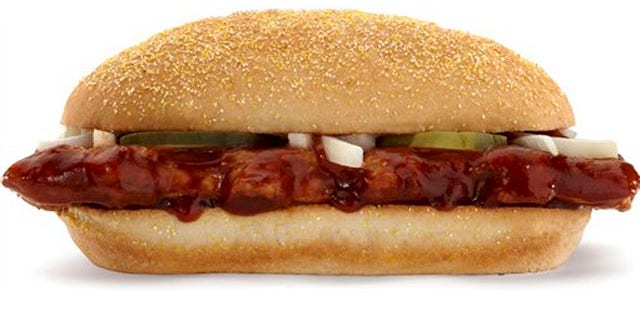 There's good news for fans of the elusive sandwich that's inspired a cult-like following. The McRib is back by popular demand.
McDonald's on Monday announced its speciality sandwich, made of boneless ribs (shaped as a rack of ribs --did we mention it was boneless?) smothered in a barbecue sauce and topped with pickles and onions on a toasted bun, will make a reappearance at all U.S. fast food chains until Nov. 14.
Usually it's available in only a few stores at a time (unless you're in Germany), but after last year when it was made available nationally for about three weeks, McDonald's decided to bring it back this year.
And with the response it's getting, we ask— why not just keep it year-round?
The answer is simple. The McRib is part of the well-shaped McDonald's brand, and in fact, is its own brand. And its success is dependent on its own scarcity.
"Bringing it back every so often adds to the excitement," said Marta Fearon, McDonald's U.S. marketing director.
And what excitement. There are Facebook groups like "Bring Back the McRib!!!" There's also a website called the McRib Locator for help in finding a McRib. The website's creator, Alan Klein, a meteorologist in the Minneapolis area, says he created it because he had fond memories of eating the pork sandwich while growing up on a hog farm.
And the sandwich has found its way into popular culture, making a guest appearance on "The Simpsons" as the Ribwich, and as the brunt of jokes on "The Late Show with David Letterman."
But is all the hype worth it? I'll let you decide. But you better make it fast. McDonald's plans to yank it from restaurants once again after only four weeks.
The Associated Press contributed to this report.