McRib Fans Using the Web to Track Elusive Sandwich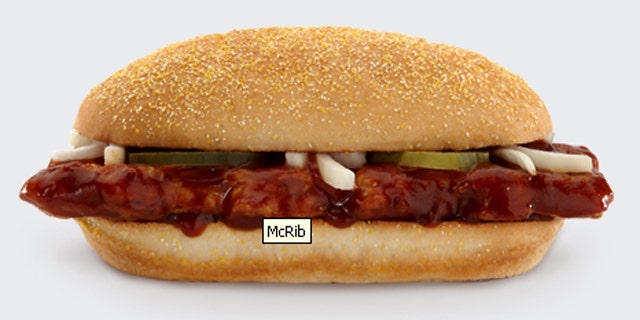 Before traveling to visit his parents in Nebraska last winter, Jeremy Duensing consulted what he always checks before a trip: the "McRib Locator" website.
To his delight, he found a McDonald's restaurant near Omaha that, unlike most of the burger chain's 14,000 U.S. restaurants, had the McRib on its menu. He bought six of the pork sandwiches, ate one right away at the restaurant, and carried the rest home to Burnsville, Minn., in an ice-packed cooler.
"Either you find places that have them or you're out of luck for the rest of the year," says Mr. Duensing, 34 years old.
The McRib actually has nothing to do with ribs. It's a boneless pork patty molded into the shape of a rib slab and adorned with pickles, onions and barbecue sauce on a bun. The sandwich made its debut in 1981.
But McRibs are almost never available at all McDonald's restaurants at the same time. Instead, the Oak Brook, Ill., company offers them in different cities at different times, rarely for longer than a few weeks.
The sandwich's elusiveness has created a fan base of people who go to considerable lengths to munch on a McRib. Ryan Dixon of Burbank, Calif., once drove 10 hours to Medford, Ore., after hearing a McDonald's there was selling the sandwich.
"It has a ghostly quality," says Mr. Dixon, a 30-year-old graphic novelist. "You don't know when it will appear. It's the girl who you are in love with who has always been a tease to you."
On Nov. 2, for the first time in 16 years, McDonald's Corp. will offer the McRib at outlets across the U.S., but even then, only for six weeks or so. "It doesn't sell well all year long because people get tired of it," says McDonald's USA President Jan Fields.
Click here to continue reading this story at The Wall Street Journal