McDonald's swaps out toys for books in its Happy Meals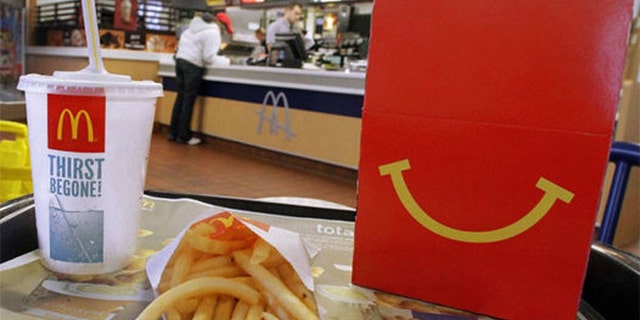 McDonald's is skipping the toys and adding books to its Happy Meals.
For a limited time, the fast food chain says it will distribute 20 million self-published print books in Happy Meals from Nov. 1-14 – to coincide with National Family Literacy Day on Nov. 1.
Four titles will be offered: The Goat Who Ate Everything, Deana's Big Dream, Ant, Can't, and Doddi the Dodo Goes to Orlando. The characters and storylines were created by advertising group Leo Burnett, reports Advertising Age.
Summary
"The Goat Who Ate Everything" -- Tells a story of a goat who likes to eat but struggles to eat right. But when he does, he feels great and becomes the playful 'kid' everyone loves.
"Deana's Big Dreams" -- Shares how Deana, the world's smallest dinosaur, grew tall by eating right.
"Ant, Can't" -- Features Ant, a bite-sized bodybuilder who's big on encouraging physical fitness through exercise and eating right.
"Doddi the Dodo Goes to Orlando" -- Follows happy-go-lucky bird Doddi who travels the world. She eats right because this dodo is always on the go-go.
According to the press release, each book will feature a McDonald's Happy Meal character and "brings nutrition, imagination and play to life in a fun way." The company says it will also offer interactive books through a McDonald's Happy Meal app.
McDonald's has been working to revamp its image by including healthier food options like fruits on its menu.
But some advocacy groups say the books are just another way to push unhealthy meals.
"By associating the brand with a message of healthy eating, it's tricking kids and parents into thinking that McDonald's has their best interests in mind," Corporate Accountability International campaign director Sara Deon told ABC News. Deon calls McDonald's plan "a reaction to growing pressure from parents and health professionals around the impact its marketing is having on kids – driving an epidemic of diet-related disease."
This isn't the first time McDonald's has offered books instead of toys. Four years ago, it distributed some American Girl storybooks. In 1988, it handed out a version of Beatrix Potter's Peter Rabbit.