McDonald's rolling out chocolate Shamrock Shake for first time ever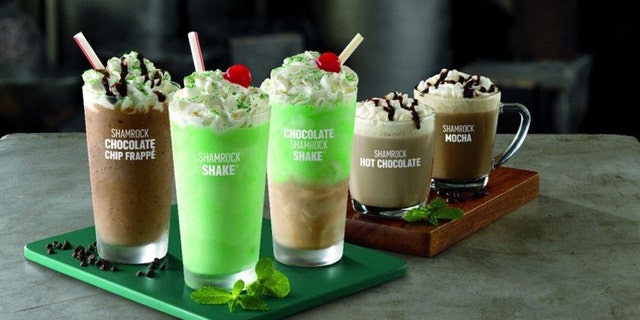 It's green, sweet, vaguely minty-- and chock full of calories. But year after year, diehard fans can't seem to get enough of McDonald's Shamrock Shake.
In the weeks leading up to St. Patrick's Day, McDonald's brings back its beloved mean, green icy beverage for a limited time.
But this year, the frothy drink is back with a few twists.
Brand Eating reports that participating McDonald's restaurants are planning to debut not one, but five different variations of the Shamrock Shake on their McCafé menus, including the original Shamrock Shake, a Chocolate Shamrock Shake, a Shamrock Chocolate Chip Frappé, a Shamrock Hot Chocolate and a Shamrock Mocha.
WHAT'S REALLY IN A SHAMROCK SHAKE?
As Consumerist notes, McDonald's minty new offerings may have actually been inspired by items frequently ordered off their "secret menu" by Shamrock Shake enthusiasts, e.g., a hot chocolate with mint syrup, or a half-chocolate-half-Shamrock Shake.
See more info on each new beverage below:
--The original Shamrock Shake features vanilla soft serve, mint syrup and whipped topping, but this year it comes with a sprinkle of granulated green sugar and a cherry.
-- The new Chocolate Shamrock Shake consists of half a chocolate shake (on the bottom) and half a Shamrock Shake (layered on top).
--The Shamrock Chocolate Chip Frappé is a mocha frappe with whipped topping, green sugar and a drizzle of chocolate syrup.
--The Shamrock Hot Chocolate, like McDonald's original hot chocolate, is a blend of milk and chocolate syrup, but with the addition of mint syrup, too.
--The Shamrock Mocha, another hot beverage, is similar to the Hot Chocolate, but comes up with a shot of espresso.
According to Brand Eating, McDonald's latest Shamrock beverages are already available in select locations, but Instagram evidence points to a wider roll-out on Feb. 7.