McDonald's employee says customer was 'talking a lot of smack' before brutal fight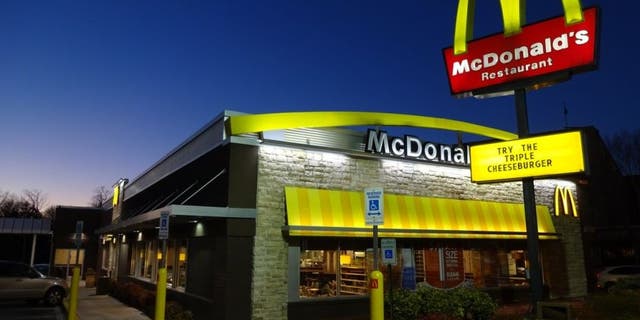 The McDonald's employee who was filmed attacking a milkshake-tossing customer, throwing her so violently that her breast popped out of her shirt, says the pint-sized pugilist was "talking a lot of smack" before the brutal beatdown.
Erika Chavolla, of Las Vegas, said in an interview posted on Facebook Thursday that she's still employed at the McDonald's where she got into a vicious fight with Sabrinah Fontelar that was captured on video.
"That s--- was crazy," Chavolla said of the incident and its viral aftermath. "It went everywhere."
WARNING: Clip contains graphic language and violence. Viewer discretion is advised.
MCDONALD'S WORKER, CUSTOMER GET INTO VICIOUS BRAWL OVER SODA
Chavolla said she's still nursing a cut on her hand after punching Fontelar "in the teeth" during the melee that began when Fontelar tossed a milkshake at Chavolla, who was barreling toward the much-smaller woman. Fontelar tried to stop Chavolla with a metal tray, but the McDonald's worker quickly overpowered her before pummeling her with closed fists. Chavolla then tossed Fontelar into a nearby booth before they were separated, video shows.
"You know, it gets crazy," Chavolla said of the encounter. "Just people think 'cause you're working, you're supposed to … you know, I held it up … she was talking a lot of smack for a long time."
DOMINO'S RESPONDS TO REPORT OF WOMAN CLAIMING SHE FOUND 'POOP' IN CHEESY BREAD
Chavolla said she wasn't even planning on hitting Fontelar, who claims on social media that she was charged with battery in connection to the fight.
"I wasn't even going to hit her, but I get it, that's a big girl coming towards you," she said. "You're going to panic and you're going to freak out."
Chavolla's boyfriend, who was seen on the video trying to calm her down, tried to explain why he didn't intervene.
"I was not trying to stop it," he said. "You don't stop a big woman like that."
Messages seeking comment from Las Vegas police were not immediately returned early Friday.
FOLLOW US ON FACEBOOK FOR MORE FOX LIFESTYLE NEWS
Fontelar, for her part, has claimed on Instagram that the fight started after McDonald's workers "didn't want to take" her money for a soda after she asked for a free water cup. A witness has claimed the fight broke after Chavolla claimed Fontelar — who identified herself as a "stripper" on social media earlier this month — couldn't afford to pay for a soda.
This article originally appeared in The New York Post.