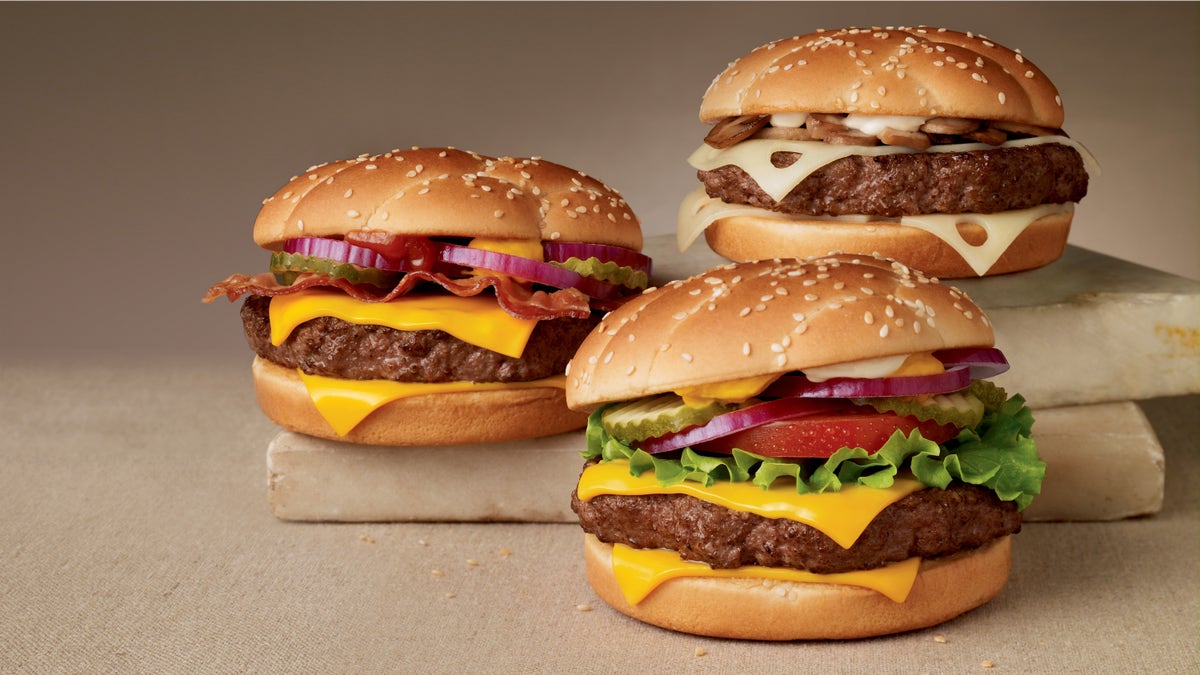 McDonald's is cutting the Angus burger from its menu.
The Oak Brook, Ill.-based company had said earlier this year that it was evaluating whether to continue selling the Angus Third Pounders, which were introduced in 2009 and are among the chain's priciest items. The company also said at the time that it was it was cutting Chicken Selects and Fruit & Walnut Salad.
The changes come as McDonald's looks to keep up with shifting tastes, even as it underscores the affordability of its food. The website BurgerBusiness.com, which reported that the burgers were being dropped earlier Thursday, also said that it learned from McDonald's franchisees that the company intends to expand its line of lower-cost Quarter Pounders in coming months, including an option with bacon.
At a time when the restaurant industry is barely growing, McDonald's has been playing up its Dollar Menu in ads to boost sales and steal customers away from competitors. Even if that hurts profit margins, executives say the strategy is critical to gaining market share and ensuring the long-term health of the company.
But Richard Adams, who consults McDonald's franchisees, said that the Dollar Menu has also made the Angus burger a less attractive option at around $4 to $5.
"When you can get four or five burgers off the Dollar Menu, nobody's going to buy the Angus burger," he said. "The Dollar Menu has become a real problem for these chains."
Another problem was that McDonald's wasn't able to raise prices on the Angus burgers, even as its own costs for beef continued to rise, said Howard Penney, a restaurant analyst with Hedgeye Risk Management. He said the chain didn't have that kind of "pricing power," meaning its customers wouldn't be willing to pay more than a certain amount for its food.
Without elaborating, McDonald's Corp. said in statement Thursday that the Angus burgers "may still play a future role on our menu." It said it was removing the burgers and Angus snack wraps to "make room for new and exciting choices for our customers."
McDonald's did not immediately say whether the burgers and snack wraps were still being sold in some restaurants. But at a McDonald's in a Detroit suburb, a "Product no longer available" sign was stamped on the menu over pictures of the three Angus burgers. Scott Hume, editor of BurgerBusiness.com, noted that Angus burger sales had been soft for some time.
"It gets to the point where you have to cull the herd," Hume said.
The burgers and snack wraps were still listed on the menu section of McDonald's website on Thursday. McDonald's did not immediately respond to confirm the introduction of the new Quarter Pounders.
In a bid to attract more customers in their 20s and 30s who are looking for fresher options, McDonald's recently added chicken McWraps to its core menu. According to an internal company memo obtained by Ad Age, the chain referred to the wraps as a "Subway buster" that would keep customers from heading to the sandwich chain.
Additionally, the chain now offers a version of its Egg McMuffins made with egg whites and a whole grain muffin. Customers are able to substitute egg whites into any breakfast sandwich.
McDonald's isn't the only one trying to refresh its menu. Burger King, Taco Bell and Wendy's have also been rolling out new items aimed at improving the image of their food. But traditional fast-food chains are trying to evolve in a tough economic climate, when they're also catering price-conscious customers.