McDonald's brings back Szechuan Sauce, launches companion 'Sauce' podcast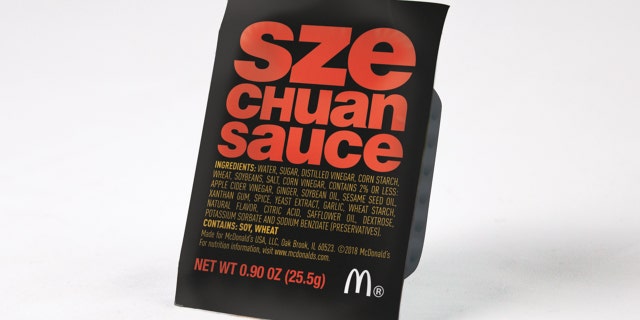 McDonald's is determined to squeeze every last drop of sweet, tangy publicity out of its Szechuan Sauce.
On Wednesday, McDonald's officially confirmed the return of its much ballyhooed condiment, which will be available starting on Feb. 26 at all U.S. restaurants — but only for patrons who make a "qualifying purchase."
"Szechuan Sauce returns 2/26! 20 MILLION CUPS spread across all US McD's!" the fast-food chain announced on Twitter.
WATCH: MAN SPOTTED SELLING SZECHUAN-DIPPED McNUGGETS FOR $10 APIECE
But that's not all: According to the tweet, the company also launched an entire companion podcast called "The Sauce" to answer its fans' "burning" questions regarding the condiment, and to discuss all-things Szechuan Sauce.
"We know there were many unanswered questions and even more unbelievable stories from last year's Szechuan saga," read a message posted to WeWantTheSauce.com earlier this week. "So, come this Thursday, February 22nd, we'll not only announce when, where, and how much Szechuan Sauce will be returning. We'll also answer those questions and share those stories via a stranger-than-fiction, three-part podcast series."
WOMAN CLAIMS SHE TRADED SZECHUAN SAUCE FOR A CAR
Die-hard fans of McDonald's Szechuan Sauce have already had an inkling that their favorite condiment would be returning to Mickey D's for a few days now. Twitter users claiming to have inside knowledge have already posted photographs of what appear to be shipments of Szechuan Sauce, as well as documentation that the item would return on Feb. 26.
McDonald's originally released its Szechuan dipping sauce as part of a tie-in promotion during the release of Disney's "Mulan" back in 1998, but it quietly disappeared from the menu shortly afterward. Then, around April 2017, interest in the sauce piqued after a character on Cartoon Network's "Rick and Morty" cartoon series professed his love for the discontinued sauce, and cited it as the impetus for all his time-traveling actions.
McDonald's later announced that the cult-favorite dipping sauce would be available for one day only — Oct. 7, 2017 — at participating locations. However, McDonald's neglected to mention that each location would only have a very limited number of sauce packets, and quickly ran out. In some cases, the patrons became rowdy after learning of the shortage, and police were called to the restaurants to disperse crowds.