McDonald's billboard in New Mexico is coming down: Company says marijuana joke does not 'meet our standards'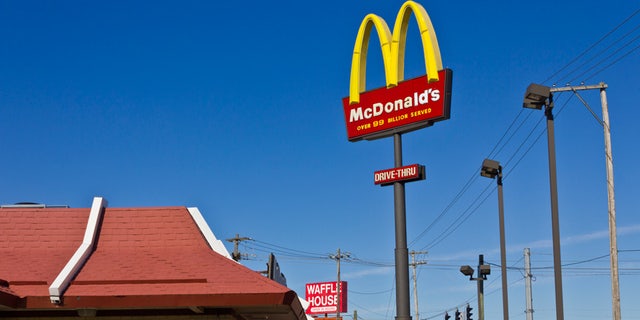 Did a McDonald's in Raton, N.M., actually make a joke about marijuana use to sell breakfast burritos?
DENVER POT INDUSTRY IS MUNCHING AWAY AT LOCAL RESTAURANT JOBS
According to the McDonald's Corporation, yes, it did — but the billboard is coming down because it doesn't meet the company's standards.
A photo of the billboard first began making the rounds earlier this week, and soon gained traction on social media for containing a joke about joint-rolling.
The billboard, which is reportedly positioned on a stretch of Interstate 25 near Exit 451, features an image of the egg- and chile-stuffed burrito alongside large white lettering that reads, "Usually, when you roll something this good, it's illegal."
KRQE, the outlet that first reported on the photo, claims the joke is being well-received in by locals, some of whom note that its "placement is key."
The McDonald's Corporation, however, doesn't seem to agree with the local community.
In a statement obtained by Fox News, McDonald's says the franchise's billboard "does not meet our standards and is being taken down."
A representative for McDonald's did not specify when the billboard will be removed from the interstate.
FOLLOW US ON FACEBOOK FOR MORE FOX LIFESTYLE NEWS
Raton lies just 12 miles south of Colorado, where marijuana is currently legal for recreational and medicinal use.