Martha Stewart's slow-cooker cranberry-apple crisp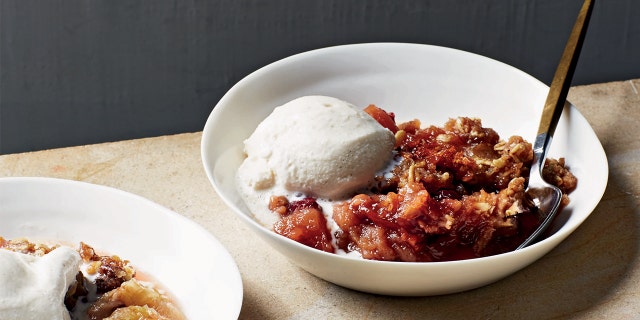 Combining the sweetness of apples with the tangy-tartness of cranberries, this flavorful slow cooker cranberry-apple crisp is the perfect addition to any holiday meal.
And since it's featured in "Martha Stewart's Slow Cooker" — a tome for those of us who prefer a more hands-off approach to cooking — it's likely one of the easiest dishes you'll make this Thanksgiving.
Just set the timer on your slow cooker, go about your more labor-intensive holiday tasks, then come back and dole out a nice hot serving for guests — topped with vanilla ice cream or crème fraîche for added creaminess, of course.
Cook Time:4 hours
Prep Time:20 min
Total Time:4 hours20 min
Servings: 6
Ingredients:
3 pounds Granny Smith apples, peeled, cored, and cut into ¾-inch pieces
1 cup fresh or frozen cranberries
? cup granulated sugar
1 tablespoon cornstarch
2 tablespoons unsalted butter, cut into small cubes
1 cup all-purpose flour
1 teaspoon ground cinnamon
1 teaspoon coarse salt
? cup packed light brown sugar
2 tablespoons granulated sugar
6 tablespoons cold unsalted butter, cut into small cubes
1 cup old-fashioned rolled oats (not quick-cooking)
? cup finely chopped pecans
Ice cream, for serving
Preparation:
Combine apples, cranberries, sugar, cornstarch, and butter in a 5- to 6-quart slow cooker; let sit 10 minutes. Stir to mix, and then press into an even layer in slow cooker.
Combine flour, cinnamon, salt, and both sugars. Cut in butter with a pastry blender, working mixture until it resembles coarse meal. Add oats and pecans, and press into small clumps.
Scatter topping over filling in cooker. Wrap slow-cooker lid tightly with a clean kitchen towel, gathering the ends at top (to absorb condensation). Cover, leaving lid slightly ajar so steam can escape, and cook on high until bubbling and crisp, 4 hours (or on low for 8 hours); rotate slow cooker insert 180 degrees halfway through cooking to prevent scorching. Let crisp sit uncovered at least 10 minutes before serving with ice cream.
Vanilla ice cream is delicious here, as is salted caramel, cinnamon, or buttermilk.
Reprinted from "Martha Stewart's Slow Cooker: 110 Recipes for Flavorful, Foolproof Dishes (Including Desserts!), Plus Test- Kitchen Tips and Strategies" by the editors of Martha Stewart Living. Copyright © 2017 by Martha Stewart Living Omnimedia, Inc. Photographs by Stephen Kent Johnson. Published by Clarkson Potter/Publishers, an imprint of Penguin Random House LLC.