Mario Batali's business partner says he knew about sexual harassment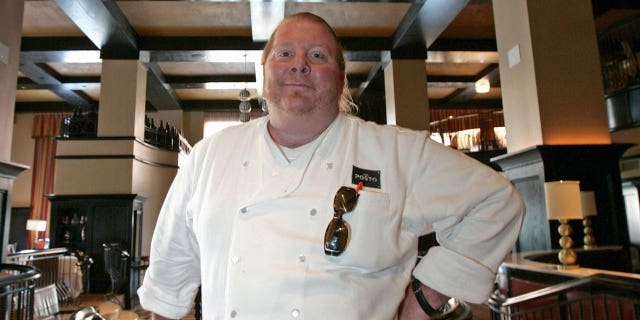 NEWYou can now listen to Fox News articles!
Mario Batali's business partner, Joe Bastianich admitted this week that he was aware that Batali sexually harassed employees.
Bastianich, 49, told Eater in a piece released Friday that he'd "heard [Batali] say inappropriate things" to staffers and that he "should have done more" to stop the problem.
"I'm proud of what our teams accomplish every day, and I've always tried to show respect for them and their work," Bastianich said. "It pains me that some employees feel differently, and I'm reexamining my own behavior to ensure that everyone I work with feels that respect."
PAPA JOHN'S CEO OUT AFTER CRITICIZING NFL ANTHEM PROTESTS
However, Bastianich categorically denied ever witnessing Batali, 57, ever grope an employee and told Eater he'd "never heard" of complaints about Batali's behavior until they went public.
B&B Hospitality Group, which manages 24 restaurants, including several owned by Bastianich and Batali, told Eater in a statement that despite having had sexual harassment regulations for nearly 10 years, "It has become clear that we need to improve our culture," noting that an outside firm will "examine the compliance" of the company's sexual harassment policies.
One Del Posto server claimed that in September, after working at the eatery for a year, she quit due to continued sexual harassment from a line cook — despite her previously complaining to one of her managers about the continued misconduct, which included lewd comments and inappropriate touching.
MARIO BATALI'S 'CINNAMON ROLL' APOLOGY GETS SLAMMED ON TWITTER
"[The manager] rolled her eyes at me," server Briana Pintens claimed. "I told her what happened, and that he'd been asking me out and making comments about my looks for a year, to the point that it became harassing, and her response was, 'You realize you're turning this into an HR situation. Do you really want to do this?'"
Six other women also described various forms of alleged misconduct in the B&B Restaurant Group's "boys' club," though they declined to be identified in the piece, with many recounting that they had little to no recourse for their complaints and that many feared losing their own jobs if they spoke out.
The company said in a statement that they will place Los Angeles chef Nancy Silverton and New York chef (and Joe Bastianich's mother) Lidia Bastianich in leadership roles "to help ensure everyone has a safe and positive workplace and to steer our culinary direction … We have fallen short in creating an environment where every employee feels comfortable reporting complaints. And we have fallen short at times when enforcing our policies. We are already taking steps to change."
Batali told Eater he wished for all of B&B's employees "to feel comfortable and safe," adding, "I now realize that my completely inappropriate behavior impacted the behavior of others who worked in the restaurants. I am truly sorry and am very ashamed. It was never my intention to humiliate, cause discomfort or pain to anyone in the operations in any way."
FOLLOW US ON FACEBOOK FOR MORE FOX LIFESTYLE NEWS
Earlier this month, Batali took leave from his restaurants and was fired from ABC's "The Chew" mid numerous allegations of sexual misconduct, including groping and making vulgar remarks to employees, and at least one allegation of assault.
Batali previously said of the accusations, "I apologize to the people I have mistreated and hurt. Although the identities of most of the individuals mentioned in these stories have not been revealed to me, much of the behavior described does, in fact, match up with ways I have acted. That behavior was wrong and there are no excuses. I take full responsibility and am deeply sorry for any pain, humiliation or discomfort I have caused to my peers, employees, customers, friends and family."
This story originally appeared in the New York Post.