Marcela Valladolid's Recipe for a Great Cinco de Mayo Feast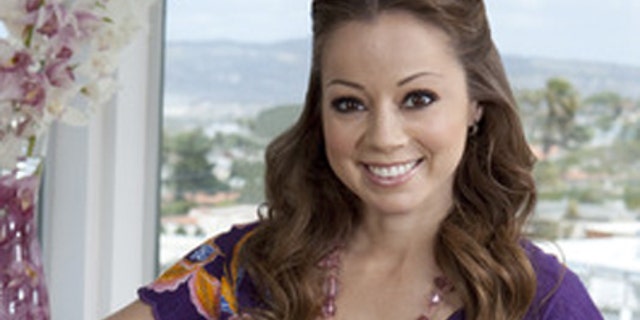 Looking for a simple way to celebrate the flavors of Mexico on Cinco de Mayo? "Mexican Made Easy" host Marcela Valladolid has three quick dishes that will please all of your amigos. So mix up a few Margaritas and enjoy.
Steak Quesadillas with Roasted Tomatillo and Apple Salsa
Recipe courtesy Marcela Valladolid
1 (1-pound) skirt steak
Salt and freshly ground black pepper
3 tablespoons vegetable oil
8 (8-inch) flour tortillas
2 cups shredded mozzarella cheese, divided
2 cups Roasted Tomatillo and Apple Salsa, recipe follows
Eva's Chunky Guacamole, recipe follows
Place the steak in a glass dish. Sprinkle the steak on both sides with salt and pepper. Let stand at least 15 minutes and up to 1 hour to tenderize, turning the steak occasionally.
Heat the oil in a large, heavy skillet over high heat. Add the steak and saute to desired doneness, about 3 minutes per side for rare. Transfer the steak to a cutting board. Let rest 5 minutes. Slice thinly against the grain.
Place 4 tortillas in the skillet with the pan juices and heat over medium-high heat. Place 1/2 cup cheese on top of the tortillas and top with 4 ounces sliced meat. Place the remaining 4 tortillas on the top. Cook until the cheese start to melt, about 2 minutes. Flip and cook until golden and the cheese is melted, another 2 minutes on the other side.
Remove the quesadillas from the skillet. Peel open the quesadilla and spoon about 1/2 cup Roasted Tomatillo and Apple Salsa on top. Close the quesadilla and slice into quarters. Serve with Eva's Chunky Guacamole.
Yield: 4 servings
Prep Time: 15 minutes
Cook Time: 10 minutes
Inactive Prep Time: 20 minutes
Ease of preparation: easy
Roasted Tomatillo and Apple Salsa:
1 pound tomatillos, husked and rinsed
2 green apples, such as Granny Smith, quartered
2 whole cloves garlic, unpeeled
1/2 white onion
2 jalapeno chile, stemmed
2 tablespoons olive oil
Salt and freshly ground black pepper
Preheat the oven to 350 degrees F.
Place the tomatillos, apples, garlic, onion and jalapenos on a baking sheet. Toss with the olive oil, 2 teaspoons salt and 1 teaspoon pepper and roast until the tomatillos are softened and slightly charred, about 20 minutes. Peel the garlic. Puree all the ingredients in a blender until smooth. Season with salt and pepper. Makes 3 1/2 cups.
Eva's Chunky Guacamole
Recipe courtesy Eva Longoria
3 ripe avocados, cut into 1/2-inch dice
2 medium ripe tomatoes, seeded and cut into 1/2-inch dice
1 small white onion, finely chopped
1/4 bunch fresh cilantro, chopped
1/2 serrano chile, finely minced
2 small lemons, about 4 tablespoons
1 teaspoon kosher salt
A viewer, who may not be a professional cook, provided this recipe. The Food Network Kitchens chefs have not tested this recipe and therefore, we cannot make representation as to the results.
In a large bowl, place the avocados, tomatoes, onion, cilantro, serrano, lemon juice, and salt, to taste. Stir gently until well combined. Transfer to a serving bowl and serve.
Cook' s Note: To keep the guacamole from turning brown, press a pit from one of the avocados into the center of the dish. Remove it before serving.
Baked Tortilla Chips
Recipe courtesy Marcela Valladolid
12 fresh corn tortillas
1/2 cup vegetable oil
Kosher salt
To make the chips:
Preheat oven to 400 degrees F.
Brush each tortilla lightly with oil. Slice the tortillas into 8ths. Using 2 baking sheets, distribute half the chips onto each sheet, making sure they are evenly spread out and not overlapping. (If the chips overlap they will not crisp in the oven.) Bake on the top rack until golden and crispy, about 10 to 12 minutes. Remove from the oven to a serving bowl. Season with salt and serve immediately.
Cook's Note: Season your chips with chipotle powder and/or garlic salt before baking for extra flavor.