Map shows what it takes to make one single jar of Nutella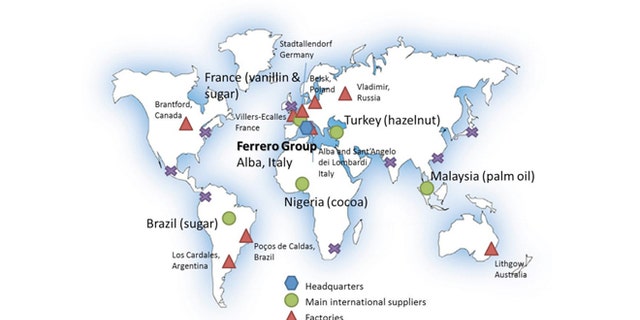 It's perhaps the most delicious thing you can have for breakfast.
And now Nutella fans can find out exactly what it takes to make their favorite product in one simple map.
The product was used as a case study for an OECD report, Mapping Global Value Chains, which takes a look at how the global supply chain works.
It shows a single jar contains sugar from Brazil, cocoa from Nigeria, hazelnuts from Turkey, palm oil from Malaysia and vanilla from France, with factories located close to the end markets in Australia, North America and Europe.
About 250,000 tons of the famous spread, which even has a World Nutella Day devoted to it, are sold in 75 countries around the world.
Authors of the report Koen Backer and Sébastien Miroudot said there is no factory in Asia so far because the product is not that popular there.
"In agrifood business value chains, there are more developing and emerging economies involved, as can be seen with countries in Latin America and Africa in the case of Nutella."