Many Americans too shy to reveal sexual fantasies to partners, says survey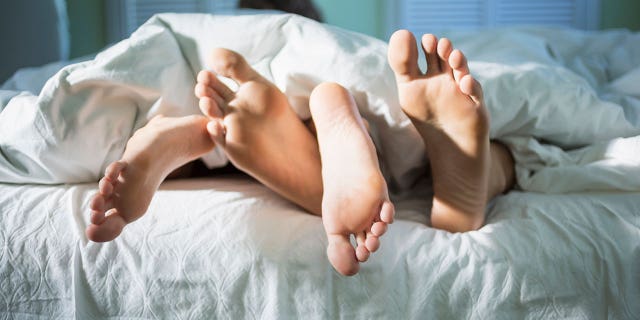 NEWYou can now listen to Fox News articles!
If you're in a relationship, there's a good chance your partner secretly wants to spice things up in the bedroom, it's been revealed.
A new study looking into the details of 2,000 Americans' sex lives found that one in four Americans in a relationship (27 percent) has a secret sex act in mind that they want to try — but haven't yet asked their partner.
The survey, which was commissioned by sex toy brand EdenFantasys, revealed quite a bit of steamy data about what Americans desire and get up to between the sheets, and as many as 40 percent of Americans claim themselves to be a kinky person.
HAVE YOU BEEN WEARING YOUR UNDERWEAR WRONG?
In fact, over a third (36 percent) of Americans say they have a specific kink or fetish.
Using sex toys is the most popular sexual act, with nearly one in two Americans (49 percent) open to this. Thirty-four percent said they want to experiment more with sex toys with their current partner.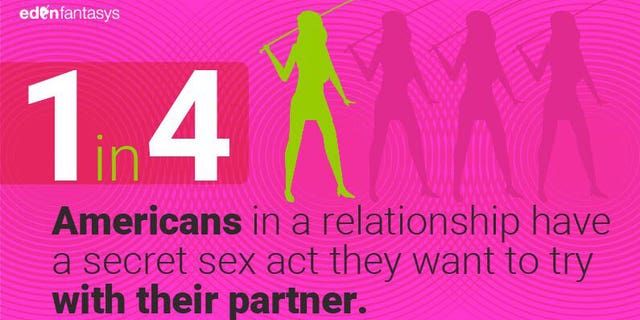 Role-playing is another popular bedroom activity, with 29 percent saying they're interested in it, and one in four (24 percent) reporting they want to give it a try with their current partner.
But while many Americans certainly have kinky sexual interests, that doesn't necessarily mean they get to indulge them all the time. One in two respondents (51 percent) who reported they had a fetish or specific sexual interest said it takes them at least a month or longer to even bring it up with their partner.
SEE THEM: SWIMSUIT COMPANY MAKES THESE BIKINIS FROM GARBAGE
Some are not as shy, however, with 14 percent of those with a kinky sexual interest saying they'll bring it up after only one night with a new partner.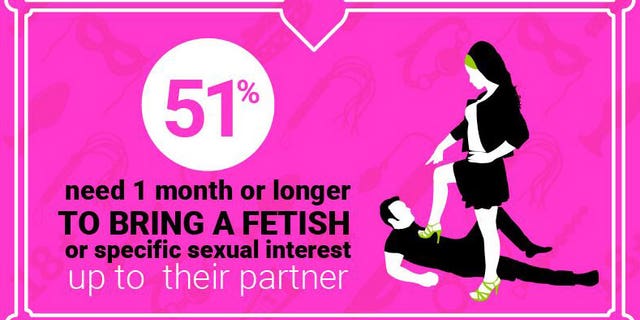 The study also revealed that Americans are definitely more adventurous sexually than not, with three out of four (76 percent) Americans saying they're definitely down to broaden their horizons and try new sexual acts.
In fact, 37 percent of Americans reported that they have encountered a partner with a kinky sexual interest and actually gave it a try.
"Having an open mind sexually is a great way to keep happiness in a relationship," said a spokesperson for EdenFantasys. "We pride ourselves in helping others find the kink that's right for them."
Plenty of Americans also want to try some kinkier stuff with their partner like bondage and S&M, with 22 percent and 8 percent reporting interest, respectively.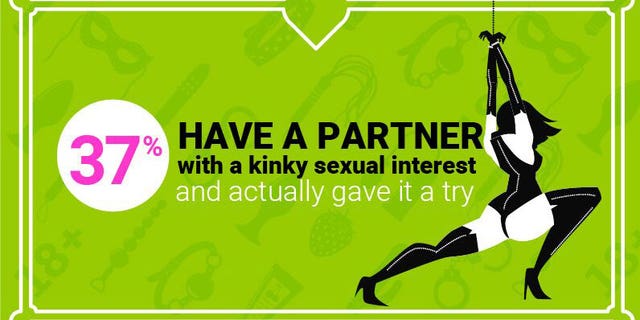 DOG OWNERS WOULD RATHER BE WITH PETS THAN FRIENDS, SAYS STUDY
"We, Americans, are going through transformative times," said the EdensFantasys spokesperson. "[We're] ttesting our norms and our sexuality once again to find out how to live our lives even fuller and happier than ever."