Man strips down on roof of Wendy's, has 4-hour standoff with cops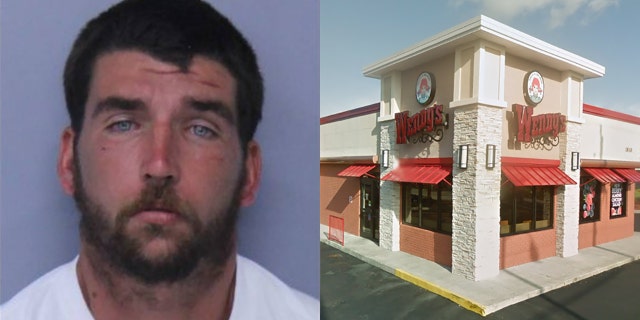 NEWYou can now listen to Fox News articles!
An irate Wendy's customer managed to get the entire restaurant shut down on Saturday night after climbing up to the roof, stripping to his underwear, and screaming at people walking by.
Timothy Weber, 31, reportedly climbed atop of a Wendy's in St. Augustine, Fla., following an argument with someone inside the restaurant, according to witnesses for the Miami Herald.
Police responded to the scene at roughly 7:18 p.m., Action News Jax reported.
DOMINO'S CUSTOMER ARRESTED AFTER FIGHTING OVER HIS 'PIZZA POINTS'
It is unclear whether Weber had been wearing his clothes when he ascended to the roof, or if he disrobed atop the restaurant. Photographs and footage taken outside the Wendy's appear to show the man perched over the entrance, with his back to onlookers and police.
An officer later attempted to scale a ladder and speak with Weber on the roof, but was stopped by Weber, who was holding a large block of wood over his head, threatening to hit him with it, Action News Jax reported.
STARBUCKS EMPLOYEES, CUSTOMERS EXPRESS CONCERN OVER NEW POLICY: 'I CAN'T SEE HOW THIS WILL WORK'
Weber later used the same block of wood to smash lights along the ledge of the restaurant's roof, doing about $2,000 worth of damage.
Police say Weber finally climbed down from the roof after four and a half hours. He was arrested and charged with criminal mischief and assault on an officer or firefighter.
During the ordeal, the St. Johns County Sheriff's Department confirmed the man was "despondent" in an alert posted to Twitter, writing that they were "working to reach this individual and get him the necessary help he needs."
FOLLOW US ON FACEBOOK FOR MORE FOX LIFESTYLE NEWS
Weber was taken to the St. John's County Jail following the standoff.