Man snacks exactly like Homer Simpson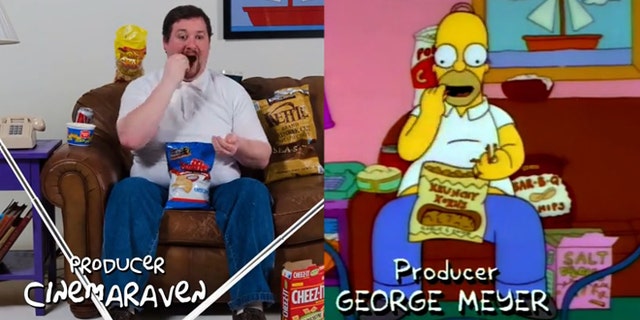 With a never ending love for donuts and junk food, Homer Simpson has inspired many a food lover over the years.
But one creative filmmaker has taken the animated star's love of food very literally. A shot-for-shot recreation of a voracious eater appears next to a snacking Simpson as his yellow hands quickly navigate between various snack bags including chips, dip and pork rinds.
"The idea came while watching the show in our studio one night," Van Wampler, the director of CinemaRaven, the production group behind the creative short told BuzzFeed. "On our days off we like to work on whatever it is we can to keep creative and fresh. The choreography wasn't as challenging as I thought it was going to be. We simply went frame by frame with the show."
For all the true "Simpsons" fans out there, the clip originated from an episode in season three-- "Lisa the Greek." It took a crew of three seven hours to complete the project.
Caolan McArthur, a self-proclaimed Homer-fan and the man in the video, certainly makes his cartoon idol proud. Happy snacking to all.