Man sets record by eating 182 slices of bacon in five minutes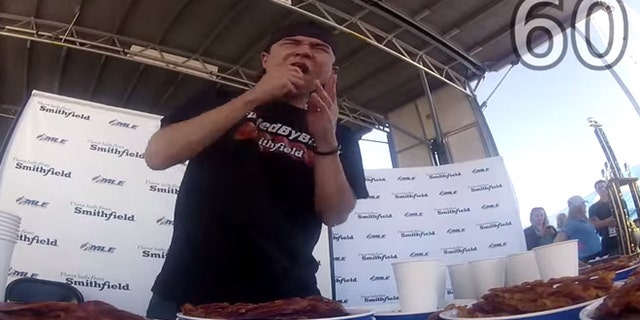 A lot of us really like bacon. But would you dream of eating 11 packs in one sitting?
Matt "Megatoad" Stonie, a semi-professional competitive eater, has just set a new world record by putting away 182 slices of bacon in just five minutes. That's over7,600 calories and a whopping six pounds-- or just over 11 full packs of your typical package of bacon.
Stonie shattered the previous record set in 2010 by Mark "The Human Vacuum" Lyle —a measly 54 pieces in five minutes.
"I'm a huge bacon fan, so I jumped at the chance to team up with Smithfield to set the bacon-eating world record," Stonie told WXIA Atlanta. "As one of the youngest competitive eaters on the circuit, I'm always looking to push myself so I aimed to eat 150 slices, but when I passed that and got to 182 slices, I knew it must be because I'm fueled by bacon!"
The Smithfield Pig Out Chase, sponsored by Smithfield Foods, took place in Dayton, Florida over the weekend. The contest is an amateur eating competition and is just one of several events leading up to the "ultimate eating showdown" set to take place this November at Homestead-Miami Speedway.
Stonie reportedly holds world records for eating the most gyros, birthday cake, frozen yogurt and pumpkin pie, and is ranked second in the world according to Major League Eating.
See the newly-crowned world champ take down 182 slices of bacon.