Man mistakes zucchini for an unexploded bomb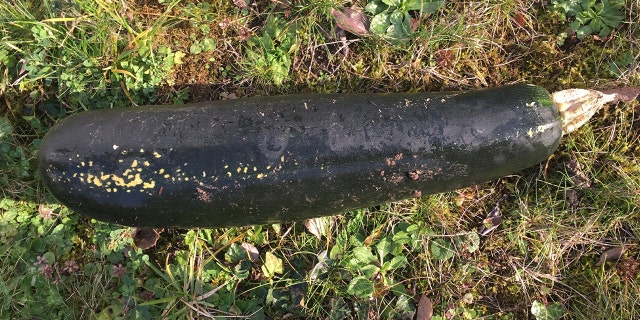 A worried resident in Germany alerted police to what he thought was a World War II bomb in his garden. Officers rushed over — and found a particularly large zucchini.
Police were summoned to the scene in Bretten, near the southwestern city of Karlsruhe, on Thursday morning by an 81-year-old man.
WOMAN'S LOST ENGAGEMENT RING TURNS UP WRAPPED AROUND A CARROT 13 YEARS LATER
The police told The Telegraph that a homeowner "excitedly rang Bretten police station and said that he had found a World War II bomb in his garden," but "as it turned out to be a vegetable, the bomb disposal unit did not have to be called."
They said in a statement Friday that officers determined "the object, which really did look very like a bomb" was actually a 40-centimeter (nearly 16-inch) zucchini.
The offending vegetable, which was very dark in color, weighed about five kilograms (11 pounds). Police believe someone threw it over a hedge into the garden.
"The zucchini must have been thrown by an unknown person over the garden hedge of the ultimately relieved man, who took care of [its] disposal himself," cops told The Telegraph.
FOLLOW US ON FACEBOOK FOR MORE FOX LIFESTYLE NEWS
The man's cause for alarm was not unwarranted, though. Frequently, unexploded wartime bombs are unearthed during construction work in Germany, often forcing authorities to evacuate tens of thousands of residents while they are defused.
The Associated Press contributed to this article.