Man dresses as waiter and serves homeless people restaurant-style meals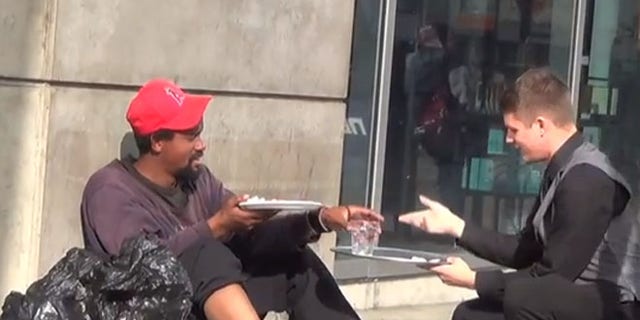 "How's it going, sir? Sorry for the wait," comedian DJ Sennett, dressed in a waiter's uniform and holding a tray, said as he approached a Los Angeles homeless man. "I brought you your food."
In a video released this week on the funnyman's YouTube channel PublicPrank, Sennett plays waiter and goes around town feeding the homeless. Sennett, who uses the channel to showcase pranks he and his friends pull in public, delivers restaurant-worthy meals and service to down-on-their-luck Los Angeles residents in this three-minute video. The meals are real and they get to eat them --so it's no so much a prank as it is capturing the reaction of the people he's serving.
"How are we doing today?" he asks one woman sitting on the street with a cardboard sign asking for spare change. "Alright, so we have the chicken plate with the green beans and here is your water. Let me know if you need anything else."
The heartbreaking responses include smiles, hugs and one man chokes up, saying, "I used to eat like this. This will get me through the day."
Although clearly designed as an attempt to make a viral video, it also offers a glimpse of charity. Take a look.