Man creates $900 McDonald's burger, maxes out new system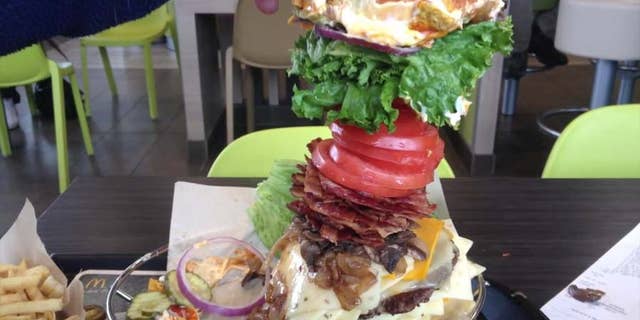 NEWYou can now listen to Fox News articles!
A Chicago man set out to create the ultimate McDonald's burger—and succeeded.
Earlier this year, McDonald's unveiled its "Create Your Taste" kiosks at about 2,000 locations across the country. The program allows diners to add on premium toppings like guacamole, grilled onions, parmesan cheese—and as much Big Mac special sauce as your heart desires.
Moshe Tamssot tested the limits of "Create Your Taste" at a Downers Grove, Illinois franchise location, maxing out the system by adding 10 times the usual amount of toppings—and everything on the menu for a creation he calls "The Big Max." At first he says, the store employees were shocked, the manager even said he had to put in a call to corporate to get them to approve the gigantic order.
"When he appeared carrying the tray, I knew I had to congratulate him for making the effort," Tamssot told FoxNews.com via email. "They could easily have asked me to turn off the camera and leave."
The burger—which really looks more like gigantic piles of toppings—had to be carried on two trays. The final order contained a whopping:
--10 slices of American cheese
--10 slices of sharp white cheese
--10 slices of pepper jack cheese
--10 pieces of bacon
--10x pickles
--10x red onions
--10x guacamole
--10x tortilla strips
--10x lettuce
--10x tomatoes
--10x jalapenos
--10x grilled onions
--10x grilled mushrooms
--Sauces: 10x mac special sauce, 10x mayo, 5x spicy mayo, 10x sweet BBQ sauce, 10x creamy garlic sauce, 10x mustard, 10x ketchup
But the biggest surprise came when the cashier first tried to ring up the order. The burger totaled $890.80 . In the video the confused register is seen checking with a manager before realizing that due to a pricing bug the system had added hundreds of dollars for the cheese.
The final total for the Big Max? Just $24.89, which could be the "deal of the century" according to Tamssot who spent most of day working his way through the3.8 pound pile of toppings, bun and meat.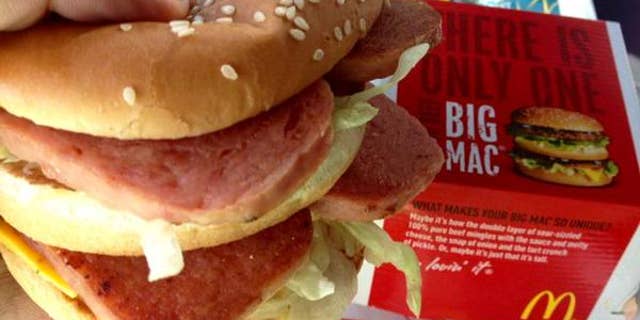 "I particularly loved eating the bacon," Tamssot says but admitted that the "taste was all over the place, depending on what elements hit the palate in what order."
The McDonald's fan has been playing around with the chain's food for years, creating poutine out of the world famous fries and a Spam version of the Big Mac in Hawaii. Tamssot is happy the chain has finally unveiled a customizable burger option—decades after major competitor Burger King—and looks forward to seeing what creations others will come up with.
"Each participating country already has its own unique ingredients in store. I'd love to see what other crazy people in other countries come up with."
Check out the Big Max come to life.