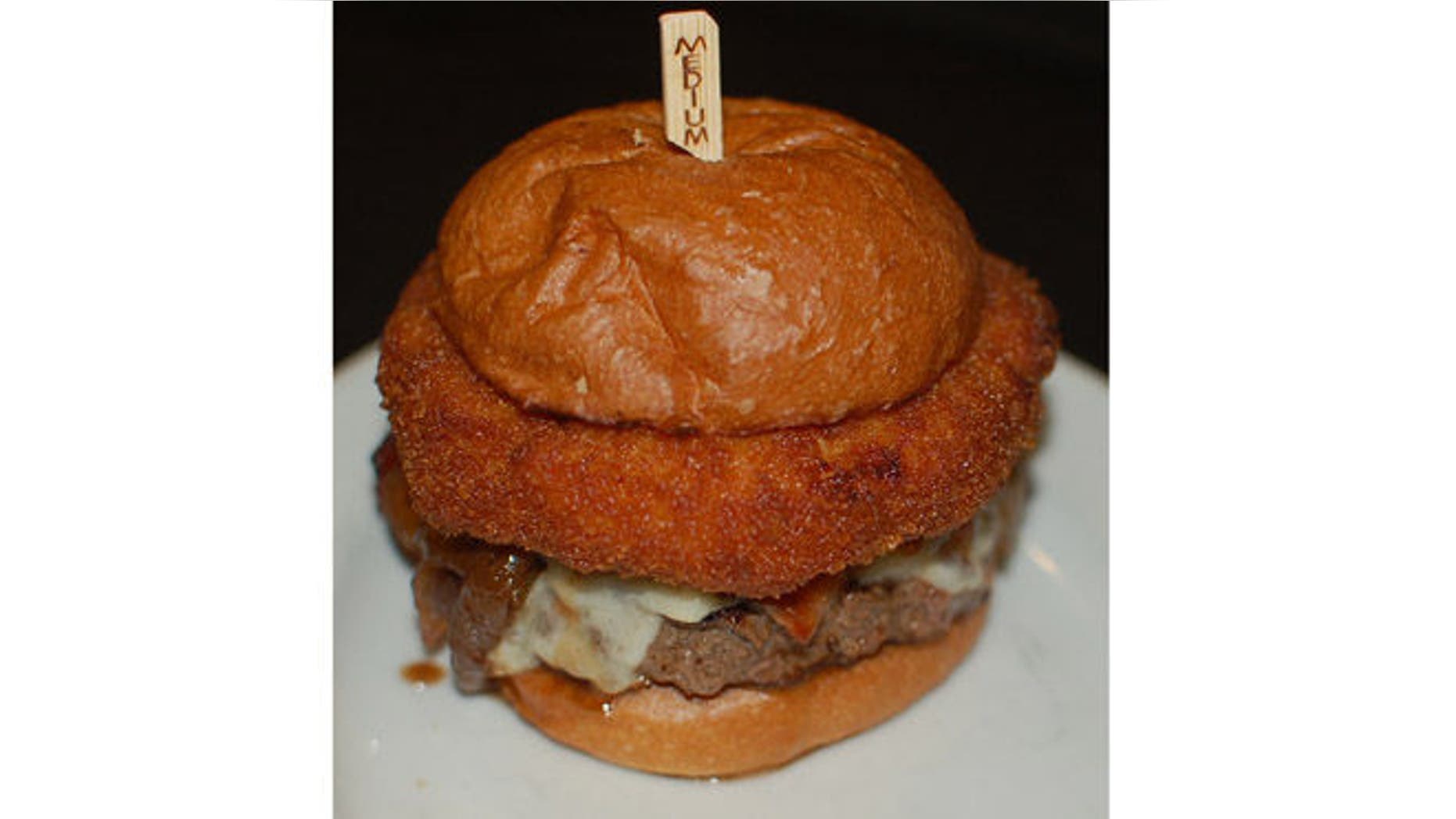 Two summertime BBQ favorites the hamburger and mac 'n cheese come together in a marriage made in foodie heaven.
Cook Time:30 min
Prep Time:50 min
Total Time:1 hours20 min
Servings: 1
Ingredients:
2 ounce butter
1/2 cup ap flour
4 cup milk
4 cup heavy cream
3 cup gruyere, grated
1 teaspoon nutmeg, microplaned
Uncooked elbow macaroni (cooked in salted water until tender, rinsed with cold water and cooled).
2 1/2 quart béchamel (warm)
2 cup grated cheddar
1 cup grated parmesan
1 #10 Can whole peeled tomatoes
3/4 cup molasses
3/4 cup light brown sugar
4 tablespoon garlic powder
4 tablespoon onion powder
t tablespoon ground allspice
1 1/2 cup white vinegar
1 cup honey
1 cup tomato paste
1 cup kosher salt
1 ounce liquid smoke
1 1/2 pound Spanish onions
1/2 cup sugar
1/4 cup balsamic vinegar
1 Parkerhouse bun, sliced buttered and toasted
1 6 ounce burger, seasoned, buttered and cooked to temperature
1 Slice double smoked bacon, cut in half
1 Fried mac patty
1 ounce smoked ketchup.
1 Slice white cheddar
Preparation:
In medium size pot heat butter until completely melted then add ap flour. Cook the roux for 3 minutes over medium heat while stirring constantly. Add the heavy cream and mix, and then add milk and cheeses. Cook over low heat until cheese is completely melted and sauce is thickened. Adjust seasoning with salt, white pepper and nutmeg.
Mix elbow with warm béchamel and cheeses. Adjust seasoning, the mix should taste slightly over salted. Spread on a parchment lined sheet pan and cool. Once chilled, form the mixture into 3oz patties. Then bread with flour (2 cups), egg (6 eggs, whisked), and processed panko (2 quarts of panko made fine in a food processor). Freeze until needed. Upon pick up fry in 350 degree oil until the patty is golden brown and floating.
Combine all ingredients EXCEPT salt and liquid smoke in a large sauce pan, slowly bring to a boil and then reduce heat and simmer for 1 hour. Remove from heat and add salt. Let cook, adjust seasoning and then add the liquid smoke.
Caramelize the sliced onions in a pot until chestnut brown (not burnt). When the onions are 95 percent caramelized, add the sugar and vinegar and reduce until syrupy.
When the burger is almost at proper temp, top with cheddar, caramelized onion and bacon and cook until the cheese is just melted. Place on the bun and top with smoked ketchup, mac patty and top bun!