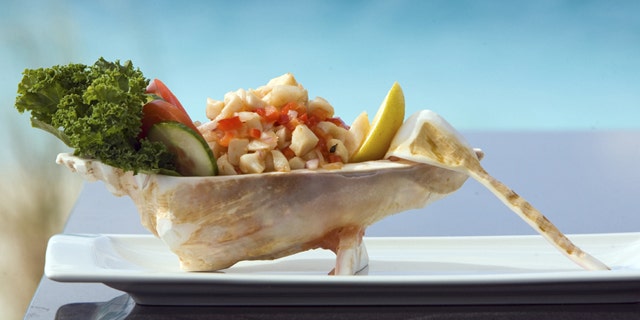 Brides and grooms hoping to add some good fortune to their marriages have some interesting options when planning a wedding feast.
Many cultures around the globe have identified foods for newlyweds that supposedly will bring good luck, fertility or other blessings.
The foods range from fried crickets to candied almonds to fish.
Attaching symbolism to food is a common practice throughout the world, said Amy Bentley, associate professor of food studies at New York University.
"All rituals and holidays and celebrations involve food," she said. "This is somewhat universal."
In Mexico, brides and grooms sometimes dine on fried crickets, lentil soup, and a bean, rice and agave dish, said Beatriz Mejia, director of celebrations at One and Only Palmilla resort in Los Cabos, Mexico. The crickets and the rice dish are said to bring fertility and good luck, and the soup is associated with good luck and good fortune, she said.
The resort has seen growing interest from couples outside of Mexico in the foods and traditions of the region, she said.
"Couples today are seeking a more personalized and authentic experience when they host a destination wedding that is reflected in both the food and venue," she said.
Brides and grooms discussing their celebrations on the wedding website TheKnot.com also seem more interested than before in incorporating traditional elements into their plans, said Rebecca Dolgin, an executive editor for the site. "Couples reaching into their own culture is more popular now," she said. "Incorporating culture is creating a buzz on the message boards."
Often, foods are considered lucky because of shape, color or taste, Dolgin explained.
Italians serve almonds at weddings because their bittersweet taste represents life, she said. The almonds are sugarcoated to wish the couple more sweetness than bitterness.
Common at a Chinese wedding is whole fish, because the Chinese word for fish sounds similar to the word for abundance, Dolgin said.
"The Chinese also believe that eating spring rolls will bring wealth and prosperity," she said. "Due to its color and size, it is also thought to resemble gold bars."
Moroccan couples also eat fish because it's an ancient symbol of fertility, she said.
Fish appears on the menu at many weddings, added Pam Frese, a professor of anthropology at the College of Wooster in Ohio. Fish and other white meats, such as turkey and chicken, are common wedding foods because of old beliefs that women had whiter blood than men, she said. White meats were thought to strengthen women's blood, so they were served at weddings to energize the bride.
"It was extra strength to her on her wedding night so she can become a mother," Frese said.
In Caribbean countries, special attention is paid to the groom's sexual performance on the wedding night, said Caitlin Austin, a spokeswoman for Grace Bay Club in the Turks and Caicos. Grooms are encouraged to eat the pistil of a conch "to increase their drive," she said. "The conch's pistil is viewed by locals as nature's Viagra."
Conch meat also is commonly served to wedding guests because islanders believe it's an aphrodisiac, she said.
Wedding cake, one of the oldest elements of a wedding banquet, also has connections to luck and fertility. "The traditionally accepted practice is for the bride to have the first bite; otherwise, she'd be childless and barren," Dolgin said.
Early English cakes were fruit cakes, and brides used to count the number of raisins in their piece of cake to see how many children they would bear, Frese said.
"The cake has power," she said. "It promises reproductivity."
Wedding cakes changed in texture and appearance in the 1920s, when lighter cakes with fluffy, creamy frosting became more popular. But the symbolism remained, Dolgin said. The white cake represented the bride's purity. The decorations of flowers and other signs of spring are meant to represent birth and new life, she said.
"It's this little bubble of nature in the middle of a wedding," Frese said. "It's the promise of fertility that's embedded in spring."