Long John Silver's announces it will stop using fat oil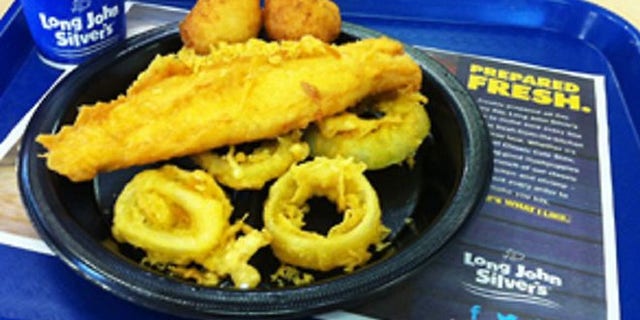 Long John Silver's reportedly announced on Wednesday that the seafood chain has begun switching all U.S. restaurants to trans fat free cooking oil.
Long John Silver's restaurants will begin using trans fat free cooking oil for non batter-dipped products, including french fries, hushpuppies, clams, crab cakes, catfish and all breaded seafood products, reported the Fort Mill Times.
Mike Kern, the company's CEO, said the move is "part of the evolution of Long John Silver's to a contemporary, relevant seafood brand."
The seafood chain has been under pressure by the consumer advocacy group Center for Science in the Public Interest (CSPI) for its use of trans fat cooking oil. In July the group named the restaurant's "Big Catch" fish platter the "Worst Restaurant Meal in America." It called the dish a "heart attack on a hook" for what it said had more than 1300 calories, 33 grams of trans fats and 3700 milligrams of sodium.
CSPI executive director Michael F. Jacobson in a statement praised Long John Silver's efforts to make the switch to trans fat free cooking oil so fast. We appreciate the speed and seriousness with which Long John's Silver's leadership addressed our concerns and made this important change for the better."
So what about the taste of the food?
Taste tests by Consumer Reports show that that the food cooked in non-trans fat oil nearly match the taste of the artery-clogging type.