Lawsuit alleges Nestle 'recklessly' underfills boxes of Raisinets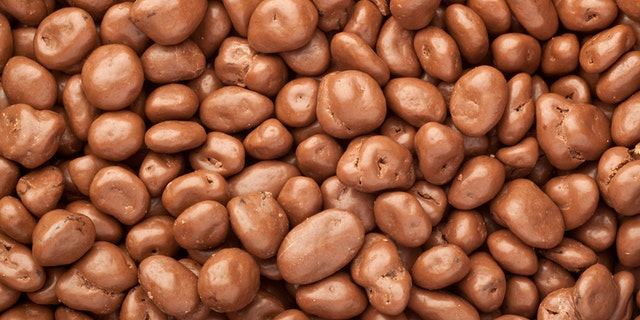 A California woman has sued food and drink giant Nestle, claiming that the company purposefully deceives customers by "recklessly" underfilling its boxes of Raisinets candy.
Plaintiff Sandy Hafer filed the class action lawsuit Tuesday in U.S. District Court for the Central District of California. According to Law360, Hafer alleges that the "opaque packaging of Nestle USA Inc.'s Raisinets candies leads customers to believe they are buying a full box of the chocolate-coated raisins when, in fact, the box is only 60 percent full."
KRISPY KREME SUED OVER 'FALSE ADVERTISING' OF FRUIT, MAPLE DOUGHNUT INGREDIENTS
Since customers can't really see the contents of each box of candy until after it's opened, "approximately 40 percent each [Raisinets'] packaging is non-functional slack-fill — empty space which serves no functional purpose under the law," according to the suit.
Though some food products, like potato chips or crackers in a bag, contain air to protect them from crumbling, Hafer's suit claims that since Raisinets are "smooth" and protected with "with confectioner's glaze" the extra space in the candy's box is unnecessary and deceptive. Nestle, says the suit, "recklessly disregarded the fact that the products contained a significant amount of non-functional slack-fill," which ultimately ends up misleading customers.
The lawsuit contends that Nestle's "deceptive packaging" violates California's false advertising and unfair competition laws.
Raisinets, which have been around since the 1920s, are sold in both boxes and flexible plastic packaging. Hafer says she purchased a questionable box of the chocolate-covered raisin confections at a Ralph's grocery in California and assumed it would contain a lot more of the candy than it actually did due to the relatively large size of the box.
"However, the Nestle Dark Chocolate Raisinets [she] purchased contained approximately 40% empty space," the suit states. "She would not have purchased the Product or would have paid significantly less for the Product had she known that the package was only approximately 60% full of Raisinets."
FOR THE LATEST FOOD FEATURES FOLLOW FOX LIFESTYLE ON FACEBOOK
Now, Hafer says many customers (the suit is seeking to represent at least thousands of people), including herself, have suffered injury and lost money as a result of Nestlé's "misleading, false, unfair, and fraudulent practices."
Hafer, who is represented by Barbara A. Rohr and Benjamin Heikali of Faruqi & Faruqi Los Angeles' office, is seeking at least $5 million in refunds and any interest accrued from previous purchases.
A representative for Nestle was not immediately available for comment.