Largest cocktails in the world
Quick, what's your favorite part of summer vacation?
If you said long hikes alone in nature, communing with the animals, and listening to the melody of the trees, then this list may not be for you. But if you said sitting hip to hip with your best drinking buddies, slurping cocktails out of a cocktail glass shaped like a fishbowl, then this, my friend, is the list for you!
Communal drinks can be really fun. Think of them as the "family style" of alcohol; everyone drinks their share from the cauldron of hooch at the center of the table, and instead of indigestion from too many Buca di Beppo meatballs, the group gets a pleasant buzz instead.
Whether you're drinking with one friend or six, we have you covered, as almost all of the drinks on this list are meant to be shared, and even the ones that aren't (looking at you 88 ounce guitar full of alcohol) probably should be.
The following drinks are some of the largest in the world. We're talking gallons of cocktails here, and they're readily available at some of the world's trendiest bars from Vegas all the way to Australia. But these also aren't the mysteriously sweet, neon-colored Mai Tai's served out of giant tiki heads from your local karaoke bar that give you a stomachache before you can even get tipsy enough to sing your heart out.
Most of these beverages are made with premium ingredients, like Hendricks Gin and St. Germaine, so you can maintain at least some air of sophistication while you and your friends slurp liquor from glasses as big as a kitchen sink.
1. Bloody Mary, O'Davey's Irish Pub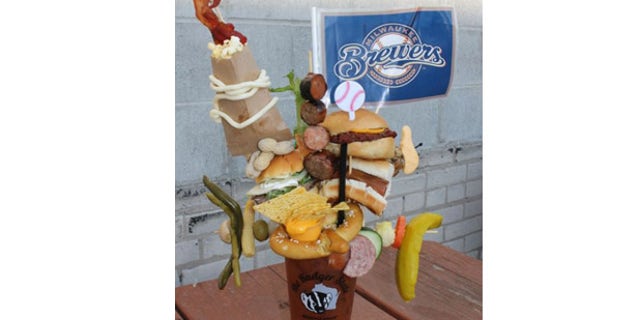 Fond du Lac, Wisc.
Okay, maybe we're cheating a little with this one because it's just a regular-sized Bloody Mary, but holy guacamole, look at all the food on top! This beast comes stacked high with popcorn, bacon, peanuts, beans, sausage, a pickle, sliders, soft pretzel, cheese curds, and nachos. You'd have to bring a friend along just to help you eat your drink.
2. World's Largest Cocktail, Beach Pavilion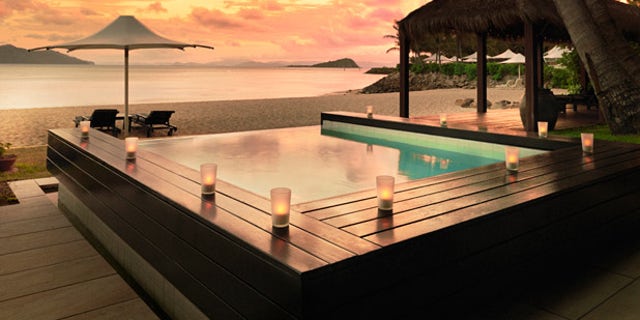 Hayman Island, Australia
This one-quart daiquiri has been described as the size of a birdbath. And priced at 30 pounds ($50 American), perhaps the pineapple and mango concoction should be huge. Situated along the Great Barrier Reef amid azure waters with green mountains in the distance, you couldn't find a more beautiful spot to drink a giant frozen cocktail.
3. Papa Hemingway, The Floridita
Havana, Cuba
Leave it to the folks who created the world's largest daiquiri to celebrate Hemingway's 113th birthday by selling a giant version of Papa's favorite libation every day of the week. Rumor has it that Hemingway once consumed 13 of these puppies in one sitting. Nowadays, the Papa Hemingway comes with four straws, but it's up to you to decide how many of them you'll be needing.
4. Toilet Bowl, Rock and Rita's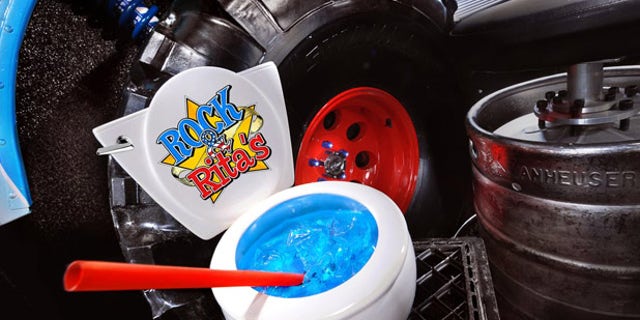 Las Vegas
This souvenir glass is certainly the most original on The Strip. Made of ceramic and looking just like the real thing, the bowl of this miniature toilet holds 44 ounces of the 2000 Flushes-colored cocktail. Perhaps this isn't for the faint of heart, but hey, the more you drink, the funnier it gets. Probably?
5. The Fish Bowl, The Foundry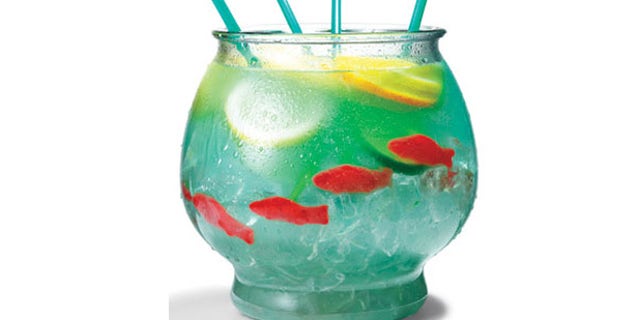 Kansas City, Mo.
This drink, made for four, is based on the classic Blue Hawaiian. It's made with rum, vodka, and blue curaçao, but this fishbowl is way more fun than the old standard. The addition of Nerds candy at the bottom of the giant glass resembles aquarium rocks, and Swedish fish candies bob around amongst the ice cubes and fresh fruit garnish. By the end of the night, after you've slurped away at the dregs of this giant drink, you may just be convinced you've found Nemo.
6. Big Kahuna, Empire Restaurant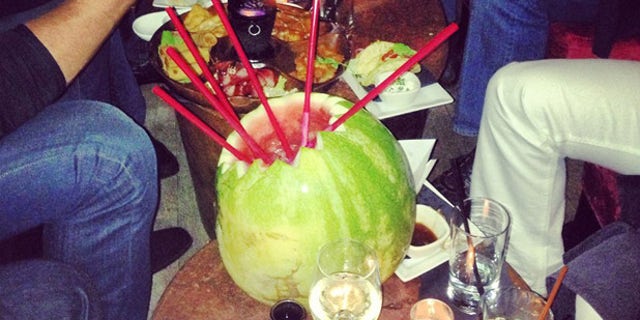 Boston
At $70 a pop, you're definitely going to want to share this one, but the presentation and the light, fruity flavor are worth it. This drink is served in a hollowed out watermelon and consists of Grey Goose mixed with mint and the melon juice. Dry ice on the bottom creates the illusion of a steaming volcano.
See more of the world's largest cocktails.
More from The Daily Meal:
The 10 Most Expensive Wines in the World
The Top 10 Wine-Consuming Countries in the World Per Capita
The Most Expensive Cocktails in the World
8 Questions About Booze You Were Afraid to Ask