Kuwait fish market shut down for putting googly eyes on less-than-fresh fish: report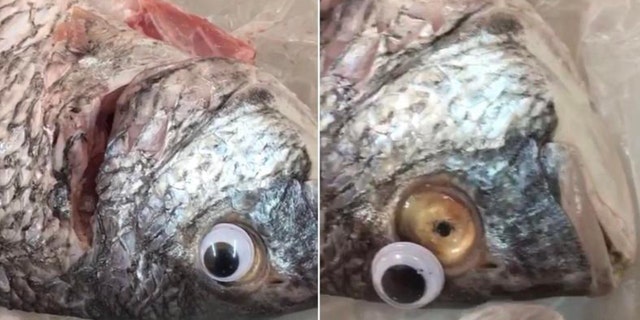 A seafood market in Kuwait was reportedly closed after it was discovered staff had been putting plastic googly eyes on fish to make them appear fresher than they actually were.
Footage of the odd-eyed fish began making the rounds on WhatsApp last week, according to the BBC, and photos were later shared online by the Al-Bayan news outlet.
MAINE OFFICIALS DENY PETA'S REQUEST FOR GRAVESTONE COMMEMORATING LOBSTER DEATHS
In one of the photos, the googly eye is seen slipping off the fish's face after a customer had taken it home and began cleaning it, Al-Bayan reported, per Al Aribaya.
The country's ministry of commerce shut down the fishmonger on Saturday after identifying the seller, the outlet added.
Since news of the shop's closure, a rival Kuwaiti fish market trolled the shop, and announced that they only sold fish "without cosmetic surgery."
MONKEY ESCAPES ZOO, FLEES TO MCDONALD'S
Twitter users, too, reacted as they usually do to news of this nature: with jokes.
It remains unclear if the shop will be allowed to reopen in the near future.