Krispy Kreme cripples traffic for hours with promise of discounted doughnuts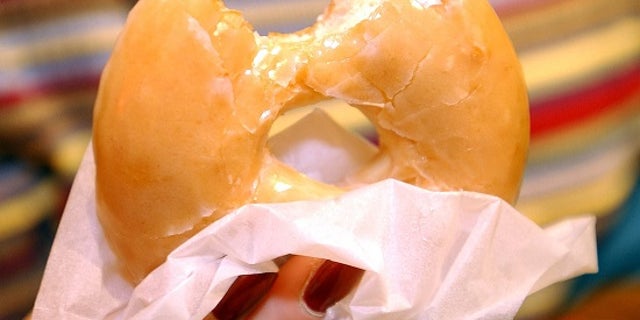 How long would you wait for a discounted doughnut?
To celebrate its 80th anniversary, Krispy Kreme is selling a dozen doughnuts for 80 cents once a customer buys the first dozen at regular price.
It's a deal so huge that it crippled traffic in Charleston, S.C., for hours on Friday.
One commuter told WCSC-TV the drive to Krispy Kreme was longer than the actual wait – and she spent two hours in line.
Another commuter said that she waited in the drive-thru line for over an hour but was stuck on the nearby highway for an additional hour.
Police had to redirect Charleston traffic around the Krispy Kreme, WCSC reported.
And as the afternoon stretched on, traffic was still snarled around the doughnut chain, according to the Charleston Post and Courier.
SHAQUILLE O'NEAL EXPANDING KRISPY KREME EMPIRE, LAUNCHING 'SHAQUILLE O'MEALS'
"Everybody is getting to work late because of this," commuter Jere Young told the Post and Courier. "They literally should just line up orange cones all the way down 526 and have a designated doughnut lane for whenever they run specials."
"I just can see the stress of people stuck in a line that don't want a doughnut," Young said.
A spokesperson for the Charleston police department said Krispy Kreme requested help with traffic control, and officers are expected to be outside the doughnut shop until midnight.
OFFICER WHO MISTOOK DOUGHNUT GLAZE FOR DRUGS DISCIPLINED
Krispy Kreme paid for the assistance, the Post and Courier reported. A WCSC reporter said she saw boxes of doughnuts in the police cars.
But it looks like it wasn't just Charleston's traffic the doughnut company spoiled; the Burbank Police in California tweeted Friday morning that the promotion was causing traffic delays.