Kona Coffee Plantations Under Attack By Beetle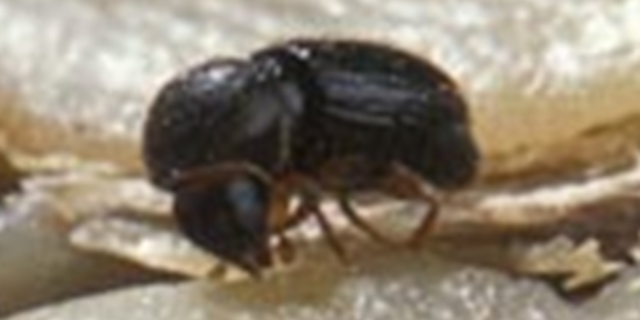 KAILUA-KONA, Hawaii – A beetle smaller than a sesame seed is boring its way into Kona coffee beans and threatening the nation's only coffee-growing region's premiere crop.
More than 600 farmers in North Kona and South Kona, on the west side of Hawaii's Big Island, are preparing to coat their fields with a suffocating fungus and are taking other measures to save their livelihoods and protect the world famous Kona coffee brand. While they're confident they can limit the damage, they acknowledge they face a long fight against a beetle that will almost certainly reduce harvests and force costly chemical treatments and other work.
"It definitely has made growing Kona coffee more challenging," said Tommy Greenwell, owner of Greenwell Farms. "Once the beetle bores into the coffee cherry, it digs out a home and lays its eggs. That bean is no longer useable in coffee products. "
The beetle, a bug known as Hypothenemus hampei that is native to Africa, was formally identified in Hawaii in September, but farmers have reported spotting it for two years. No one knows how it arrived in Hawaii, but growers said they're not especially surprised because it's seen in other coffee-growing regions throughout the world.
"There are 101 theories about how it got here. All we know is it got here from another country and it's a very, very good hitchhiker," Greenwell said. "How could we really know? It's not important."
What's vital is how to fight the bug, which if not handled effectively could devastate one of Hawaii's top exports.
According to that National Agricultural Statistics Service, farmers in Hawaii last year grew 7.9 million pounds of coffee, a drop of 800,000 pounds from the year before and down from nearly 10 million pounds in 2000. That figure includes coffee grown in other Big Island districts, as well as on the islands of Kauai and Maui. Only beans grown in North and South Kona can be sold as Kona Coffee.
Greenwall said about 25 percent of farms in the Kona region are infected and farmers have lost roughly 2 percent of the crop this year.
A key advantage for Hawaii farmers is that growers elsewhere in the world have plenty of experience with the beetle and chemicals are available to aid in the fight.
The state Board of Agriculture last week approved importing two pesticides that contain fungal spores that kill the beetle. The fungus occurs naturally in Hawaii soil but must be sprayed in greater volume to smother the beetles and prevent them from boring into individual beans.
Board of Agriculture Chairman Russell Kokubun said the state needed to take action to protect the industry.
"Coffee is a very important commodity and great resource for the state. It's an export product so it brings in new revenue and it helps brand the Hawaii name," he said. "There was no real question that we needed to do something quickly."
Kokubun said he is hopeful the pesticides will be available to farmers within a couple of weeks.
Farmers are urged to use a three-pronged attack to keep the infestation to a manageable level, but the timing must be right.
The first step is to keep the ground clear of fallen beans and to strip each tree of every bean after each harvest. That can be a time-consuming and expensive task, as trees number 600 to 900 per acre.
"The most devastating part is the expense," Greenwell said. "It's going to cost about another $300 per acre, labor-wise, to strip a field with 10 guys. Plus the pesticide. It's going to add $500 total per acre."
The second step is hanging traps among the trees before the beetle has a chance to bore into beans as they mature. Beetles are lured into the traps by an intoxicating mixture of methanol and ethanol, then drowned in soapy water.
Konawaena High School agriculture students in Kealakekua are building traps from plastic soda and milk containers and selling them for $1.50 as a fundraiser.
Finally, the ground, the trees and the young beans must be covered with the pesticide.
Similar plans have managed to control beetles in other coffee-growing countries, such as Colombia and Peru, but Kona farmers said they're still nervous.
"It's frightening to think we could lose our crop," said Allan Frank, owner of Kona Cafe farm. "Things are more stressful for farmers."
Frank said he was prepared for a small harvest last year, due to drought conditions, but also had to discard about 15 percent of the crop that was infested with the beetle.
Still, farmers have a shot at saving this year's crop if they apply the pesticide just after the first flowering, which is happening now.
"We'd have no chance without the pesticide and I'm glad they gave us another tool. I need it yesterday," Frank said. "I can't say I'm feeling optimistic yet, because we don't know how effective it will be and it is going to be a lot of work."
___
Online:
Greenwell Farms: http://www.greenwellfarms.com
Kona Cafe: http://www.konacafe.com
Hawaii Department of Agriculture: http://hawaii.gov/hdoa/pi/ppc/coffee-berry-borer-folder