KFC China releasing Colonel-themed smartphone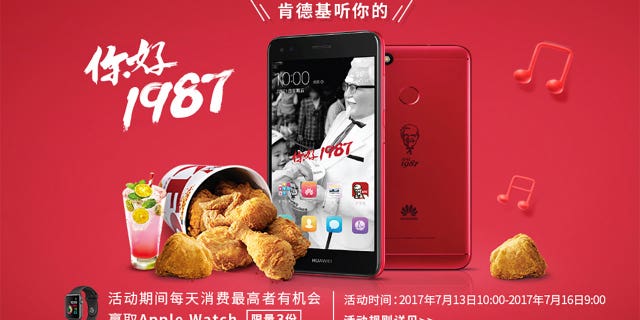 It's starting to seem like the KFC restaurants in China aren't really interested in serving chicken.
Following the chain's earlier experiments with robot-staffed restaurants and facial-recognition technology, KFC China has teamed up with Huawei — the country's largest smartphone company — to release a Colonel-themed smartphone in honor of the KFC's 30th anniversary in China.
"Both brands have witnessed the rise of China in these 30 years, and both embody the spirit of the times. Our collaboration is a homage to the era," said Steven Li, the senior vice president of KFC marketing for Yum China, in a statement to Campaign Asia-Pacific.
KFC RELEASES STEAMY ROMANCE NOVELLA IN HONOR OF MOTHER'S DAY
The phone, named the KFC Huawei 7 Plus, comes with red casing and features an outline of the Colonel's face on the back. The numbers "1987" are also imprinted onto the case, to commemorate the year both KFC and Huawei made their debut in China, reports CNET.
In addition to its KFC-approved color scheme, CNBC reports that each KFC Huawei 7 Plus comes pre-loaded with the KFC app, as well as 10,000 "K Dollars" (or virtual credits) to spend on said app. KFC customers who purchase the phone will also have access to a "jukebox function" called K-music, which will allow them to choose the songs they'd like to hear over the sounds systems in 4000 KFC China locations.
"Music is part of the lifestyle of young consumers and they want music to be on-demand," explained Li.
FOLLOW US ON FACEBOOK FOR MORE FOX LIFESTYLE NEWS
KFC Huawei 7 Plus phones are currently available for a limited time on the Chinese online retail site Tmall for 1099 Chinese yuan, or just under $162.
As mentioned above, this isn't the first time KFC China has tried incorporating new technology into its business model. In 2016, KFC China staffed one of their Shanghai locations with voice-activated robots. Earlier this year, the company also installed facial-recognition ordering kiosks at one of its Beijing locations, which would order customers a meal based on their facial expressions.