Kate Upton's most delicious food moments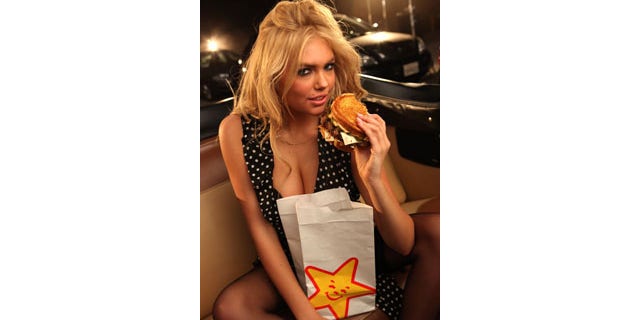 It's safe to say that when most people think of supermodel Kate Upton, the new cover girl of Sports Illustrated's annual Swimsuit Edition, food is not the first thing that comes to mind. But taking a closer look at her endorsement deals, past gigs, and media appearances reveals some fun facts about Upton's connection to food.
Upton has been a spokesperson for SoBe drinks, she's claimed in interviews that her favorite food is sushi (which she eats at least five times a week), and she played in 2011 Taco Bell All-Star Legends & Celebrity Softball Game at Chase Field in Phoenix — just to name a few food-related facts. On the other hand, The Daily Mail in London reported that Upton's friends staged an intervention last year because they felt that she had "let herself go" with regards to her weight.
As this Sports Illustrated siren continues coming into her own as a model and actress, check out some of the food- and drink-related moments that she's experienced along the way.
Kate Upton Loves Sushi
Kate Upton has been filmed sharing her love of sushi, her favorite food. She even claims to eat the Japanese delicacy as often as five times a week — with an extra order of pickled ginger.
Her Guilty Pleasure Foods Are Ice Cream and French Fries
Upton has been quoted indirectly as saying that she definitely watches her weight but splurges occasionally on ice cream and french fries.
She's Played Softball for Taco Bell
In July, Upton played in the 2011 Taco Bell All-Star Legends & Celebrity Softball Game at Chase Field in Phoenix.
She Endorses Carl's Jr. and Hardee's
In conjunction with the release of the Sports Illustrated Swimsuit Edition, CKE Restaurants released promo clips of Upton's sexy new ad campaign for Carl's Jr. and Hardee's. The official commercial spots will begin airing next week.
More from The Daily Meal:
Reviewing Taco Bell's New Cantina Menu
How to Order Mexican Food without Sounding Estupido
Best Athelete Food and Drink Endorsement Ads
A History of Food and Video Games