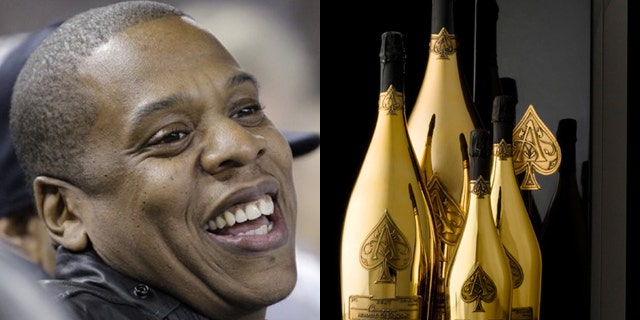 MIAMI -- Jay-Z threw a Miami bash for his new album, "Watch the Throne," on Sunday night at the Fontainebleau resort, and splashed out on a $100,000, 15-liter bottle of Ace of Spades champagne, the New York Post reported Tuesday citing spies at the event.
"It takes two people to serve the champagne due to the size and weight of the bottle," remarked a gob-smacked witness.
The dapper rapper partied without his wife, Beyonce, who was performing in New York at the Roseland Ballroom, or his "Throne" partner Kanye West, who was overseas, according to a Jay-Z rep.
Instead, Jay-Z hosted a dinner for about 40 friends -- including DJ Clue, Ne-Yo and Kim Porter -- before moving his bash to Fontainebleau club LIV, where the mega-bottle of bubbly got popped.
Jay-Z references both the Miami Beach resort and Ace of Spades in his "Watch the Throne" ditty "Primetime."
Billboard, citing sources, reported Monday that the album broke the US iTunes Store's one-week sales record last week when it sold nearly 290,000 downloads through Sunday night. The album was available through iTunes from Aug. 8-11 before going on sale at all retailers Friday.
Click here for more from FoxNews.com Food and Drink