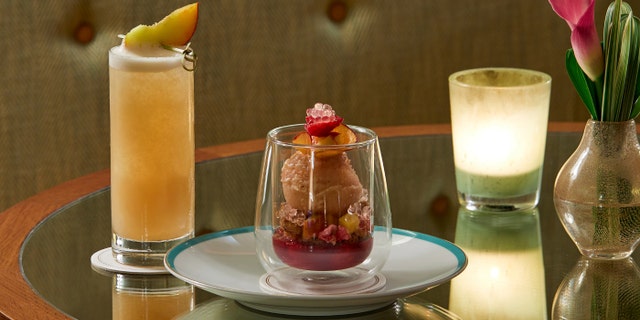 NEWYou can now listen to Fox News articles!
The mixology team at The Plaza Hotel was inspired by the botanicals in NOLET'S - peach, raspberry and rose - and created a cocktail that accentuated these tasting notes.
The Plaza pairs this with the Palm Court Summer Verrine-- a peach and verbena tea sorbet, raspberry and rose compote, ginger crumble, peach flower, crystalized rose petals, pink grapefruit pearls, juniper pound cake.
Cook Time:
Prep Time:5 min
Total Time:5 min
Servings: 1
Ingredients:
2 oz. NOLET'S Silver Gin
1 oz. Peach Puree
3/4 oz. Fresh Lemon Juice
1/2 oz. Simple Syrup
1 Fresh Egg White
1 dash Fee's Peach Bitters
1 oz. Fever Tree Club Soda
Preparation:
Add all ingredients except the club soda into a shaker and vigorously dry shake.
Add 4 or 5 ice cubes and shake again until you have a nice creamy froth.
Double strain ingredients into a highball.
Top with club soda.
Garnish with peach wedge.