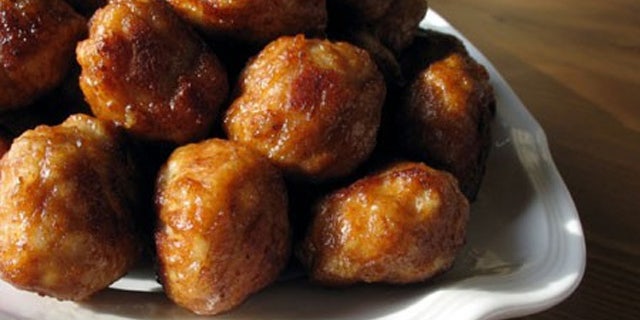 Meatballs are everywhere these days, and not just on the Jersey Shore.
When "Top Chef" finalist Dave Martin was opening The Meatball Factory in New York City's East Village last month he worried that people would think he was copying other meatball-centric eateries.
His sous chef soon put his mind at ease. "He told me that meatballs are the new cupcakes. Just like spots like Magnolia and Sprinkles can co-exist different variations of the cupcake can exist as long as they are different," Martin said.
The delightful delicacy has turned into the latest comfort food craze as more and more Americans are seeking out food specialties that remind them of happier times.
"In New York and across the country, people are more and more focused on comfort foods and doing them really well. I think meatballs are along that line, something everyone has fond memories of that are really appealing on a gut level," says Carey Jones, the editor of the food blog, Serious Eats New York.
Jones added that the meatball, like the cupcake is a versatile recipe. We may think of them as an Italian-American specialty but they can easily cross cultural boundaries with the addition of a few choice ingredients.
Martin's delectable meatballs each contain between twelve and eighteen ingredients. He spent upwards of 25 hours just negotiating the flavors. "I didn't want to do the same meatball. I wanted to make sure if I did it I would have a little fun and more cross cultural," the chef said.
Among the offerings on his menu are the Latin Stallion, made from a spicy chorizo, pork and manchego cheese, the Turducken, made from a house blend of La Frieda turkey, chicken, and duck confit and the Hog Wild, a blend of braised pork shoulder, ground pork shoulder, cherrywood bacon fat, mascarpone and a dash of red chili paste.
If you thought meatballs could only be paired with marinara you were very, very wrong. Martin's meatballs can be topped with any one of eight sauces. The offerings include a green curry peanut sauce with red bell pepper, a black truffle sauce and a salsa verde with roasted tomatillos and fire roasted green chiles.
Washington chef Michel Richard, best known for his high end eateries Cintronelle and Central also hopped on the ball train when he opened his restaurant Meatballs earlier this month in the capital's Penn Quarter neighborhood.
Richard's meatballs include a traditional beef, fried chicken, crab, lamb and lentil. Diners can enjoy the balls on top or a salad or in a grinder. Weight conscious diners will be happy to know that Richard's meatballs are moistened in a vegetable puree instead of fat, making them a healthier option than the average ball.
These days a lot of cities have their own meatballs-only shop. But the credit for spearheading the trend should go to Chef Daniel Holzman and his co-owner Michael Chernow who opened the original Meatball Shop in New York in 2010. Since opening their first location they have opened two more restaurants, signed a book deal and become evangelists for the meatball all over television.
Try making some of these at home with recipes from the chefs:
Recipe: Frankies' Classic Meatballs
Recipe: The Meatball Shop's Reuben Balls with Thousand Island Dressing
All these fancy meatballs floating around begs the question: Is there anything wrong with grandma's good old fashioned beef meatball?
We should also mention that that restaurants have been serving up the classics for years. Some noted ones are Frankies Spuntino and Raos in New York City. And there are some new places with the authentic Italian taste, like Fiola in Washington, D.C. Almost like the best pizza, it's hard to say exactly which meatballs are best, but bottom line, they're good, which critics say is their success.
"Wild and wacky meatballs are good for one thing: headlines. But if they're more about shock than offering something crave-worthy, they won't last and people will fall back on the classics," says Lawrence Weibman writer and creator of NYCFoodGuy.com, a blog dedicated to affordable food.
"Diners will continue to respond to wild and wacky meatballs, but if a restaurant doesn't send diners home dreaming about them, that restaurant better execute the classics correctly or else they're out of business."