Italians troll Michelin-starred chef over healthy pizza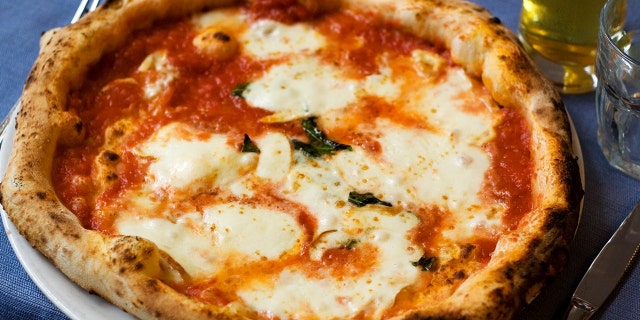 A Michelin-starred chef in Italy has become the subject of ridicule after he made a couple tweaks to the country's cherished Neapolitan pizza. The precious pie is made with basic dough, raw tomatoes, fresh mozzarella cheese, basil, and olive oil, but Carlo Cracco wanted to make a version that was "healthy" and "crunchy," so he broke tradition.
Neapolitan pizza is near and dear to Italian culture, specifically in Naples, where the pie was born. In December, the Neapolitan pizzaiuolo — or "pizza-maker" — secured a spot on UNESCO's list of intangible world heritage. Nearly two million people signed a petition in support of Naples' application, and when it was approved, the city celebrated by handing out free pizza to passersby in the streets.
The cultural phenomenon holds a special place for the nation and now also for the world.
But Cracco's rendition has rendered a little backlash. According to the U.K.'s Telegraph, he added wholesome grains and cereals to the dough, topped with petal shapes of mozzarella and a heavy tomato sauce. The item — sold at Cracco's namesake restaurant in Milan's Victor Emmanuel Gallery — will set customers back about $20.
"For 16 euros ($20) here in Naples, you can also have zeppole and panzerotti as well as a large beer and still have change," @Mr_Mrk1 wrote on Twitter.
The Neopolitan writer Angelo Forgione allegedly called the modified Margherita a "cracked pizza," according to the Telegraph. Another anonymous pizza purist reportedly said, "After making his own 'pizza,' they took away not only his other Michelin stars but also his Italian citizenship and his driving license."
In November, it was announced that the "Hell's Kitchen" alum had lost a Michelin star at his restaurant, falling from two to one, Food & Wine reports.
But not everyone hates Cracco's newest creation. Italian celebrity chef Gino Sorbillo — who is widely considered one of Naples' best Neapolitan pizzaiuolos — actually seems to have liked the pie.
"Anyone who knows me well knows that in my life I have NEVER talked bad about any pizza. Never!" the chef wrote on Facebook. "If I like a pizza I say it and will always say it. I like all the pizzas 'of character.'"
This article originally appeared on The Daily Meal.