Is the world's first home distilling kit actually safe?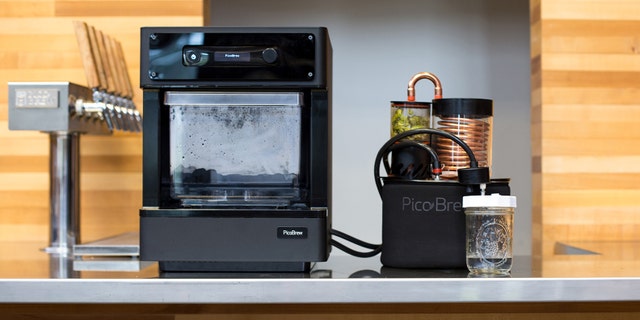 The booming popularity of craft spirits has thirsty fans beelining to their local liquor stores to find the latest and greatest whiskies, vodkas and gins.
But those days could be numbered.
Following the rise of craft beer brewing at home, PicoBrew, which has several products for the DIY beermaking set, recently launched a Kickstarter campaign for new device called PicoStill device. They've already raised nearly three times their original goal of $350,000 and it's already become one of Kickstarter's most successful food campaigns.
6 SURPRISING FACTS ABOUT IRISH WHISKEY
From vodka to whiskey, gin and brandy, the PicoStill relies on distilling technology that the company claims is safer because it regulates temperatures more precisely and via a methanol collection chamber when distilling spirits. It also gives licensed distilleries a chance to experiment in smaller batches-- whether they're testing out new formulations or trying to get creative with flavor additives.
"This level of precision and safety in distilling has never been available before, and we're excited to offer distillers ultimate control over their cuts using our patent-pending technology," Jim Mitchell, chief science officer of PicoBrew, told The Spirit Business.
A PicoStill prototype took three months to develop, according to Mitchell, who added that the design is meant to make distilling an easy process for consumers.
"The game changer for distillers is the infusion chamber which allows a distiller to play around with infused spirits using their normal wash or low wine," Mitchell said. "Want to make an avocado/mint-infused vodka? You can pilot it on the PicSstill using only a couple gallons of wash or low wine.
"There is nothing like else like this on the market today that is as agile or automated."
So how does the device actually work? The PicoStill uses an indirect heating source to heat up water to exact temperatures and as the water vaporizes, it goes through an infusion chamber, which can be filled with hops, herbs and other aromatics. The essential oils are then pushed up and out through a copper coil where the liquid then drips into a jar.
FOLLOW US ON FACEBOOK FOR MORE FOX LIFESTYLE NEWS
But before you sign up to get your own PicoStill, keep in mind that brewing at home has some legal hurdles. According to federal law, it's illegal to make spirits at home-- and consume them-- so DIYers will still need proper permits to join the growing craft spirits industry.
Allen Katz, a founder of the Brooklyn, N.Y.-based New York Distilling Company, hasn't used the PicoStill, but he's curious about how PicoBrew has addressed the safety of its newest device—and how the machine handles pressure in the distilling process to temperature control.
"In the cocktail age we're in, I could see this being something of interest to people at home and bartenders," said Katz.
"There's a novelty to it that's potentially interesting."