Inside the Benjamin, Trump's DC hotel bar that serves wine by the spoon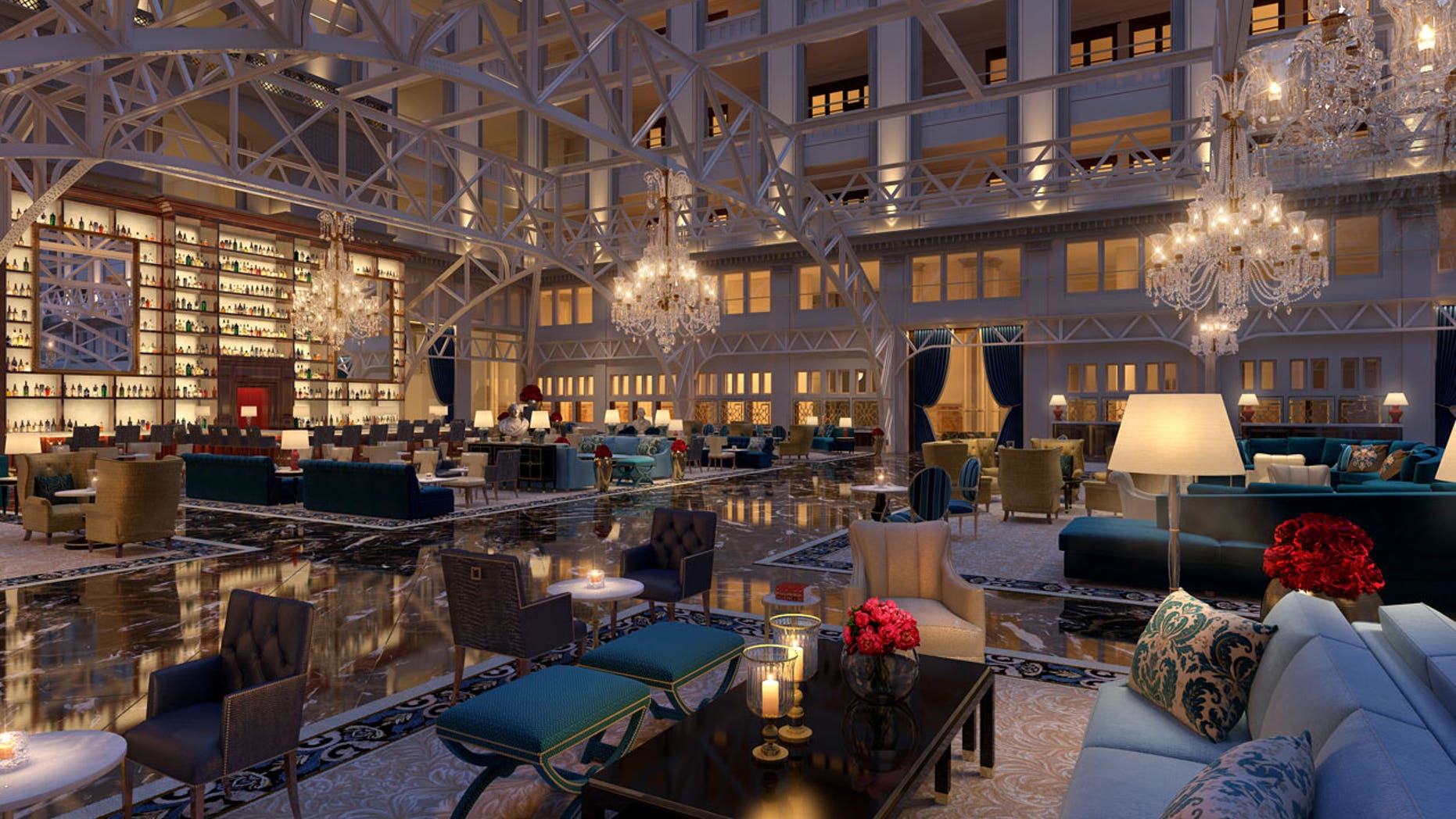 Ready dine like the Donald?
BLT Prime, The Trump International Hotel Washington, D.C.'s flagship restaurant, is open to all non-hotel guests today. But if you're looking to get in a few nibbles and cocktails, check out the Benjamin Bar & Lounge where you can dine on $16 "Hipster Fries," $20 cocktails and wine… by the spoonful.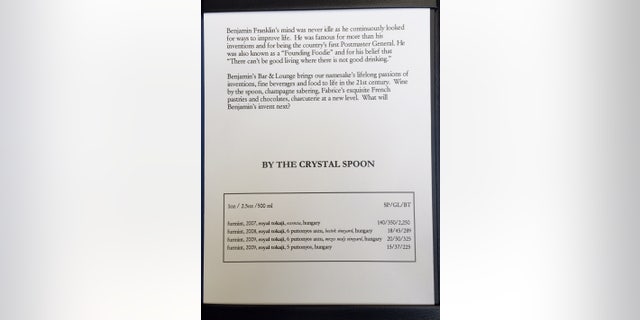 Situated in the landmark Old Post Office Building, the hotel held its soft opening Monday. The lobby bar--named after Benjamin Franklin, the country's first postmaster general—serves four wines by the crystal spoon. All are white wines (furmint) from Hungary's Royal Tokaji winery. And, should you choose imbibe more than just your 1 oz. spoonful, they're also available by the 2.5 oz glass or 500 ml bottle. Or you could just order another spoon.
Three of the wines are in the $15 to $20 range for a spoonful, while the 2007 Essencia costs $140 for just a taste (a bottle of it runs $2,250). Savor any precious droplets of this pick.
Humans have been enjoying wine for about 8,000 years—but it's usually drunk in glasses. The Royal Tokaji winery itself also serves its wines by the spoonful but no other Trump property offers the luxury of imbibing via tiny a crystal utensil. So why serve it by the spoon in the nation's capital? As the menu explains, Franklin was an innovator who liked a drink.
As for the rest of the drink menu, Benjamin's seven signature cocktails cover most of the staple liquors. There's the "Postmaster General" with Tito's Vodka and prosecco and the "Romanesque Revival," a spin on a mint julep with honey and ginger. But you'll pay a pretty penny for each sip. The signature cocktails start at $18 and go up to $21.
Food wise, Benjamin offers cheese plates, charcuterie, meat dishes like steak tartar with foie gras, a burger, and candied bacon. There are plenty of seafood options, too, including a seasonal, bi-coastal oyster selection, Chincoteague littleneck clams, and octopus.
Feeling ironic? Try the $16 "Hipster Fries" topped with an umami-peaking blend of parmesan and beef jerky. On the sweet side, nine desserts are available, all priced at a relatively reasonable $12. David Burke's signature cheesecake lollipop tree—a staple from his Townhouse days—makes a whimsical reemergence on Benjamin's menu.
If you can get to the bar early, there's a 4 to 6 p.m. happy hour that features dishes like liverwurst and smoked avocado served on grilled bread for $5 each. On the other end of the price spectrum, there's the Trump Tower: a one-pound lobster, eight oysters, four clams, four shrimp, and blue crab cocktail for $120.
Benjamin is situated at the end of the nine-story atrium that affords a look up at the building's historic clock tower. The rich blue bar chairs evokes tones from the blue carpet Bill Clinton's Oval Office and the seating areas are lavishly appointed with blush furniture and gold accents.
Trump stopped by the hotel Monday to thank staff for their hard work. But official opening ceremonies for the property aren't planned until October.