Hundreds get a slice of Gloucestershire Cheese Rolling 2012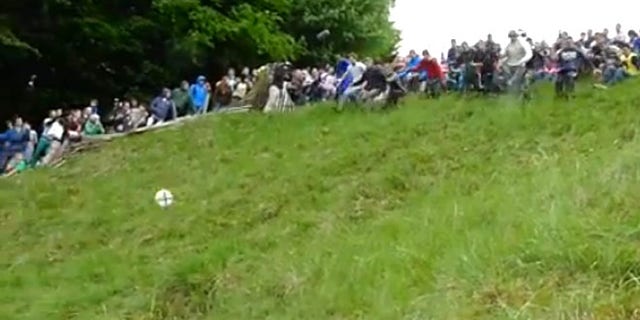 The Brits have some decidedly unusual traditions, but this may take the cheese.
While all eyes this weekend were on the Queen's Jubilee, cheese lovers gathered in Gloucestershire, about 100 miles west of London, to chase an 8 lb piece of cheese down a hill, reports the Daily Telegraph.
Hundreds of watched the bizarre ritual to celebrate spring that dates back to the 1800s, in which participants run, roll and somersault down a hill some 200 yards long after a large wheel of Double Gloucester cheese. The steep slope was slick, but softened by rain in recent days, made for relatively few injuries this year.
There were three men's races and one woman's race--and the final event of the male that featured a special Jubilee cheese that had been created for the occasion.
And the prize for the winners--you guessed it. A wheel of cheese.