How to score a free doughnut on National Doughnut Day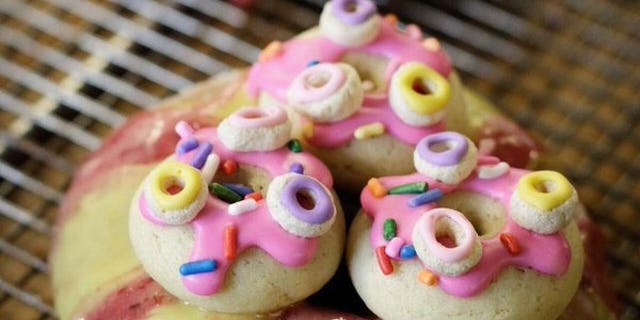 Donuts or doughnuts? No matter how you spell them, they're delicious.
Whether you like 'em deep-fried, cake-style, stuffed with jelly or cream, sprinkled with powdered sugar, sprinkles or chocolate-frosted, these doughy delights are undeniably delicious.
National Doughnut Day was created in 1938 when the Salvation Army used the pastry to raise money during the Great Depression and to honor the women who served doughnuts to soldiers during World War I.
To help celebrate National Doughnut Day, plenty of national and local places are offering sweet deals and discounted donuts.
Today, Dunkin Donuts is giving out a free donut with any beverage purchase. If Krispy Kreme is more your style, pick up a free donut at any of their U.S. or Canadian locations, no purchase necessary.
At Giant Eagle, purchase a half dozen and another six donuts free. Entermann's may give you free donuts for a year-- just register online today for chance to win.
You can also get sweet deals on non-donut purchases at Coffee Bean and Tea Leaf. Store locations are offering 20 percent off all orders with promo code THX200. Use the code ENJOY10 to take 10 percent off of your Mrs. Fields purchase today.
If you've got a little extra dough to spent on your ringed treat, look no further than these shops. These hot donut spots across the U.S. are offering some of the most insane donuts we've ever seen.
1. Inception Donut
Donuts on donuts on donuts? Sign us up! This over-the-top vegan treat from the Cinnamon Snail is a maple raspberry-stuffed donut topped with miniature donuts and decorated with even smaller donut-shaped frosted treats. Mind blown.
2. Psychedelic Stormtrooper
Voodoo Doughnut may be godfather of America's wacky donut craze. While they're best known for toppings like bacon, M&Ms, fruity cereals and more, they also create custom larger than life centerpieces. This rainbow Storm Trooper is cool enough to turn anyone into a lifelong "Star Wars" fan.
3. Nutella Doughnut by Dough
This isn't just a doughnut filled with Nutella. One bite of this rich and decadent treat will satisfy your annual quota for anything chocolate hazelnut flavored. Dough, a bakery from Brooklyn, N.Y. has packed their donut with enough Nutella to fill about 10 pastries with this ooey gooey spread.
4. Squealing Pig Donut by Gourdough's Public House
Loosen your belt if you order the squealing pig donut from Gourdough's Public House in Austin, Texas. This savory and sweet pastry features cream cheese icing, bacon, strawberry jalapeno jelly and a candied jalapeno all stuffed and stacked into one donut.
5. Srirachosin by Donut Friend
Sriracha on a donut? Why not! This spicy and undeniably sticky confection hails from Donut Friend in Los Angeles. It's filled with peanut butter, strawberry jam, coconut bacon and just a little bit of Sriracha to set your mouth into a fiery frenzy. But only temporarily.