How to make the ultimate buffalo wing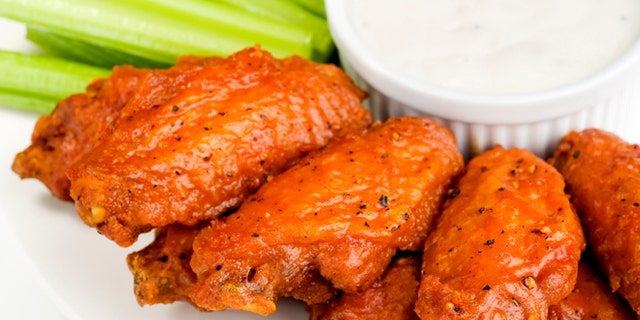 These days, you can get any kind of chicken wing your heart desires. Whether you're craving honey-glazed barbecue, teriyaki sesame, or Jamaican jerk, there's probably a wing recipe for that, and it's most likely being served at your local sports bar. We're starting to see new and exotic variations of the beloved bar snack popping up everywhere — ranging in taste, style, and heat. With so many renditions available, we reminisced about the simpler days when a wing was just a buttery red mess known as a Buffalo wing. While others are out trying to break the mold with an innovative twist, we got to thinking, how do you make the perfect Buffalo wing?
Invented in 1964, the Buffalo wing hails from, you guessed it, Buffalo, N.Y., and its history contains a mishmash of facts and various claims. The facts: The wings, which were usually just thrown out or used for making chicken stock, were transformed into a sticky finger food by Teressa Bellissimo, co-owner with her husband Frank of Anchor Bar in Buffalo. This is where the story gets messy (excuse the pun), because why and how Bellissimo came up with the idea of the Buffalo wing is up for debate. Frank claimed the creation was the result of the restaurant receiving an accidental shipment of wings, while their son, Dominic, argued that his mom whipped them up after being asked to make a late-night snack for him and his friends. There are even people who say the wings were created to be served as a gift to Catholic patrons late on a Friday night when they were able to eat meat again. Since the members of the Bellissimo family have since passed away, we may never know the exact origin of the famed bar food.

We hate to be the ones to say this, but who cares about how or why they were created — just tell us what makes them so delicious. After The Daily Meal reported on an annual wing competition that takes place in New York City every fall, Wingfest, we became wing-obsessed and were inspired to explore the art of making a Buffalo wing. Once we finished grilling our friends and the executive chefs of hallmark New York City wing spots such as Wildwood BBQ, Duke's, and Tribeca Taphouse about this year's competition, we digressed into a conversation about what makes the perfect wing and obsessed over every little detail. Our sources had some pretty good hints to share, and they coached us into crafting the Ultimate Buffalo Wing Recipe.
Enjoy, and, don't forget the wet naps.
Chicken
"The chicken does most of the work," says chef Big Lou of Wildwood BBQ. Your Buffalo wing will only be as good as the chicken it came from, so make sure to only use fresh and all-natural chicken wings. Never, and we mean never, start with frozen chicken.
Brining
While we're familiar with brining, we had never thought about doing it with Buffalo wings until chef Shamel Moorehead of Tribeca Taphouse told us he puts his in a brine for just an hour before making them. Any brine recipe will do, but it's usually a solution of sugar, water, spices, and vinegar.
The Crispy Skin
First things first, you have to cook the wings before doing anything else. Anyone in Buffalo, N.Y., will tell you that a Buffalo wing is not a Buffalo wing unless it's fried, and that explains the unmistakable crispy skin that everyone attributes to a Buffalo wing. If you're looking for the real deal, frying is the way to go. Deep-fryers are a nice toy to have, but we crafted a recipe that will require nothing more than a skillet.
Grilling
If it's summertime and the living's easy, why not go outside and fire up the grill? You won't get the same skin we were talking about earlier, but you will get a smoky taste and a nice char on your wings. Because they're so tiny, they only take about 15 minutes to grill up.
The Back Up Plan
And if it's not summertime and you can't stand hot oil, there's always the oven. Baking is a bit of a slower process, but your golden, crispy wings should be ready in about an hour in the oven at 375 degrees.
Sauce
Now that you have your wings crisped up perfectly, it's time to talk about flavor. The secret's in the sauce, and that's all there is to it. If you're lucky enough to live within driving distance of Anchor Bar, you can swing by and pick up a bottle, but until then, we've decided to go with another favorite, Frank's Red Hot Cayenne Pepper Sauce, and we laced it with a tiny bit of vinegar to get that unique, Buffalo-sauce flavor.
Butter
This isn't a mystery to many, but you have to add butter to your Buffalo wing sauce. It's the perfect complement to the spicy heat of the sauce and it adds that shiny, glistening texture to the wing.
Spices
Chef Michael Siry of Duke's in New York City says that the secret to their Buffalo sauce is that they play around with the spices. You'll see several variations of the recipe calling for cayenne this, paprika that, but we're confident that Frank's does most of the work for us. Because we can't resist, though, we add just a pinch of garlic powder for another layer of flavor.
Blue Cheese Dressing
Once you have your wings ready to go, you can't forget about the blue cheese dressing for dipping. Many restaurants like to play around with this, like how Tribeca Taphouse serves ranch (kudos to that), but we're sticking with the tried and true dip that soothes your taste buds just as the fiery wings are heating them up.
Carrots and Celery
Last but not least, the wing's only two companions in this world. You wouldn't be enjoying a plate of wings without these guys, so make sure you have some carrots and celery on hand for a refreshing and cool bite between wings.
Check out The Daily Meal's slideshow and wing recipes
More from The Daily Meal
How to Make a Perfect Grilled Cheese

Amazing Uses for Your Microwave

Cooking Oils Simplified

11 Easy Appetizer Recipes