How to Make Great Cocktails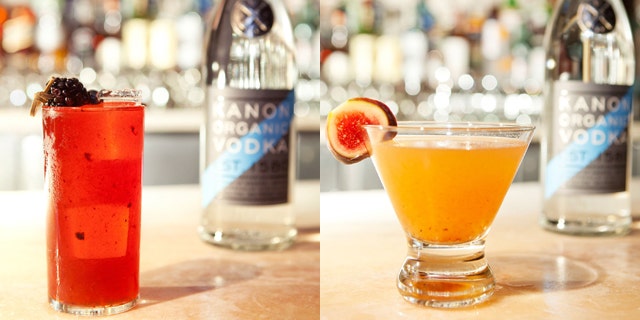 The holiday season is well under way. By now you have likely decorated the house, planned time off from work and racked up a credit card bill to be reluctantly handled in the New Year.
For some of us however, the holiday list doesn't stop there; now it's time to plan a party that will have friends and family talking for weeks.
Most holidays are bursting with tradition, but just as important is incorporating that little something extra; a wow-factor to leave guests surprised and smiling. If planning that dreaded holiday party is looming over your head, and you're looking for that special something to serve your guests, consider mixing unusual cocktails.
Serving unique, well-crafted cocktails is a great way to add some flare to an otherwise typical holiday get-together. Plus, it's a delicious way to help ease some of those potentially awkward family moments.
If anyone knows great cocktails, it's Nicolas O'Connor. As the head mixologist at Apotheke cocktail bar in New York City, he is constantly envisioning and creating new "prescriptions" to offer thirsty patrons. A bar that only offers one beer, one house red and one house white, Apotheke is all about stepping outside of the box. Bartenders are even allowed to deny requests for drinks like the Long Island iced tea or the Cosmopolitan.
"People will get a little offended, but the people on either side of them will smirk a little and say 'you know, I can't believe they asked for that,'" he laughs. "Our crowd is very informed and they love that we don't do [those drinks]. Hopefully they have fun, but they can't have a Long Island iced tea."
Much like a restaurant, the menu changes based on seasonal ingredients, with the current one featuring drinks spiced with cinnamon, nutmeg and ginger.
O'Connor gives some tips to help even the most inexperienced bartender harness this creativity and expertise, and to mix holiday cocktails like a pro.
Go Fresh, Save Your Head
Each morning, O'Connor heads out to local markets to pick up ingredients available that day and according to him this is essential. "Any time you would use a store bought juice, you should use fresh fruit," he says. "Any time you use lime, you don't want to use Rosa's lime juice," he says referring to the brand of bottled sweetened lime juice. It costs about $6 and you can get it at most retailers. This attention to detail and farm-to-bar ideology is what helps balance the harshness of the liquor and set his cocktails apart.
"When you're cooking, you use pleasant grade ingredients," he elaborates. "When you're making a cocktail, you have this one underlying ingredient that doesn't balance with everything else. Using the freshest in everything really does help to balance it out; to get the trueness of out of whatever spirit you're using."
Here are some recipes we tasted, and three great holiday ideas to serve up at any party.
Recipe for Autumn Harvest, a chilled apple cider cocktail.
Recipe for Kanon Saft, a Scandinavian fruit juice with a kick.
Recipe for Glögg, a mulled wine from Sweden.
If you think that O'Connor is just being a purist, this tip can actually help you in the long run. Cocktails made with natural ingredients and good spirits are less likely to attribute to that nasty next-day headache. Balance is key.
Proper Measuring a Must
Proportion is everything and when mixing cocktails, you generally want to abide by the "2-1-1" rule. By using two ounces of liquor, one ounce of sour and one ounce of any other modifiers, you can ensure a well rounded drink. Rather than pouring haphazardly, use the proper instruments to measure out liquor. Don't have a jigger at home? Use a shot glass. Because the average shot glass holds one ounce of liquor, it's the perfect every man measuring tool.
Ice, Ice, Baby
As a mixologist, O'Connor is more concerned with the break-down of the ice, rather than the shape of it. You don't want a cocktail to contain too much water, because this will mask the flavors you're aiming to feature in your drink. When mixing drinks at home forget those enormous arctic ice bricks. Generally, the easiest option is to use regular ice cubes; something which O'Connor reluctantly admits to doing himself.
One thing that will severely alter the composition of your drink is not straining over new ice. Avoid using ice from the shaker and instead pour your finished cocktail over fresh ice.
A Well-Suited Glass
"Martini glasses are designed to get your whole face in there," O'Connor explains as he demonstrates. "When you're drinking from it your nose gets activated and you're smelling the cocktail before you're even tasting it." For the most part, recipes will call for a specific kind of glass. Stronger drinks are often served in a rocks glass, whereas drinks featuring more delicate flavors call for a martini glass.
Abiding by this will ensure that your drinks are enjoyed the way they are intended. And remember – chill your martini glasses.
Allow for Play Time
Perhaps the only downside to using fresh ingredients is that unlike store-bought juices, they will vary from batch to batch. Taste testing will allow you to understand subtle variations and compensate accordingly. A sweet lime one day may be much more tart the next. Don't be afraid to tweak the recipe.
For O'Connor, personal preference plays a big role when creating cocktails. "Some people love the sweetest drinks, some people love tart drinks, some people like really strong drinks." Once you've got your techniques down, you can begin to play around with your recipes and create your own concoctions.
"Playing around is the most fun. It's all I do" he concludes.
For more recipes check out Kanon Vodka.