How to make Auntie Anne's pretzels at home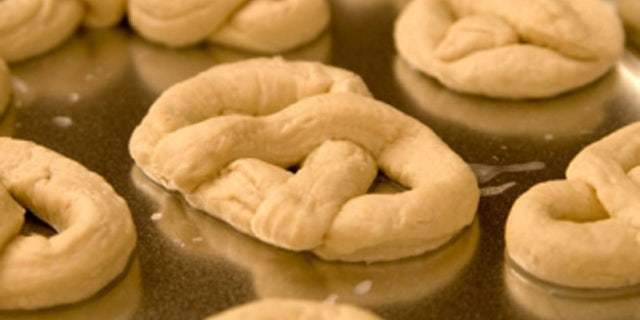 What's your favorite thing about going to the mall? If you're like the Cook editors at The Daily Meal, it's probably not the stores or the sightings of Santa around Christmastime, but that sweet, baked, buttery aroma wafting through the air that can only come from one place: Auntie Anne's Pretzels.
There's no mistaking that smell, and many can agree that there's nothing better… except maybe the taste of an Auntie Anne's pretzel. These pretzels have been charming their way into Americans' hearts since 1988, when founders Anne and Jonas Beiler developed the recipe for a farmers' market they purchased in Lancaster, Pa. Today, the same recipe is used at all Auntie Anne's locations, ensuring that the unique and popular taste that made it such a hit more than 20 years ago will be in every bite of your pretzel.
Whether in an airport, train station, or a highway rest stop, an Auntie Anne's pretzel serves as a quick bite for someone on the go, and as Melanie Auxer, VP of food science and technology at Auntie Anne's, puts it, "It's not that bad for you." Containing 340 calories and 5 grams of fat, an Auntie Anne's pretzel is one of the healthier options available to someone who needs to satiate their hunger in an easy and fast way.
The pretzel, and the rest of the Auntie Anne's products that have been developed since, can be enjoyed in more than 1,200 stores in 46 states in the U.S., and in 23 countries around the world. Traveling in Singapore? Try Auntie Anne's seaweed-infused pretzel. And if you happen to be in the U.K., you can't miss their banana variety. To sum it up, the popularity of an Auntie Anne's pretzel is due to its perfect storm of appealing qualities: unique taste, accessibility, and low in fat. Oh and did we mention accountability? Because no matter what Auntie Anne's location you're at in the world, you're guaranteed to see the employees mixing, rolling, and baking the original recipe by hand right in front of your very own eyes.
Auntie Anne's pretzels are pretty special things, and we mean no disrespect, but there was one part about the company's motto that had our brains churning: the Perfect Pretzel Guarantee. Auntie Anne's guarantees that you'll like your pretzel every single time, even if means leaving out ingredients like butter or salt, or sending it back for another one. We like the promise of a perfect pretzel, so much so that we decided to develop our own Auntie Anne's recipe for us to make at home. Now that perfect pretzel can not only be found in the mall or supermarket, but fresh and hot out of the oven in the comfort of our own homes.
A lot of our recipe was based off intuition and common knowledge of a pretzel recipe, but there were some parts that were taken directly from Auntie Anne's method. Take, for example, their "secret ingredient," which Auxer describes as something that was accidentally added to the recipe — we guessed sugar. The recipes on their site gave us some pointers as well, like how to mold the perfect pretzel and what gives it that extra crunch. In the end, we think our recipe makes it possible to enjoy that buttery, sweet aroma right in your own home, giving you that perfect pretzel, every time.
The Secret Ingredient
Remember that secret we talked about? Like we said, we guessed sugar, which is why we added confectioners' sugar to our dough.
The Ingredients
Along with the confectioners' sugar, we added the essential ingredients for baking a pretzel. To give our pretzels that moist, fluffy dough, we used a little bit of cake flour because of its glutinous qualities, milk to give the dough a silky texture, and butter for richness in flavor. We also had baking soda in our ingredients, but this was left out of the dough and used later.
Let It Rise
After kneading the dough together for about eight to 10 minutes, we let it rise at room temperature for at least one hour, or until it doubled in size.
The Fingers
Another everlasting quality of the Auntie Anne's pretzel is its thin, crunchy loops. To get the same circumference, we rolled our pretzel dough really, really thin, about the width of our fingers.
The U
Pretzels look like pretty elaborate specimens, but it all starts with a U. Thanks to Auntie Anne's detailed (and passionate) instructions, we saw that twisting a pretzel together is as easy as tying a shoe. Twist, cross, and fold under.
See the recipe and complete instructions here
More from The Daily Meal
How to Make Fast-Food Favorites at Home

Essential Baking Tools

10 Classic American Desserts

7 Things You Didn't Know You Could Make with Potato Chips