How to eat healthy at 16 fast-food chains
When you're trying to eat healthy, a fast-food restaurant doesn't exactly seem like a great dining option. Burgers, fries, and milkshakes probably aren't your best bet if you're on a diet. But over the past several years, fast-food chains have taken major strides to offer menu selections that are decidedly healthy. So when we're hungry and have nowhere else to turn, a quick study of the menu board at these fast-food destinations can show that it's not all so terrible after all.
Right off the bat, it would seem that the burger joints would have the least healthy options, but there are some items that, surprisingly, aren't filled with bad ingredients and tons of calories. You're never going to mistake these spots for a wheatgrass bar, but in a pinch you can get out of there with minimal grease.
Salads may seem the obvious choice, but aren't very healthy if loaded with breaded, fried chicken chunks, and creamy dressings. And keep in mind that while some sandwiches and entrées are healthier, that's often without the add-ons that boost flavor appeal. But the healthy choices don't have to be completely bland: When possible, ask for dressings, sauces, and condiments on the side so you can control the amount put on. And don't rule out combos completely — a combo of two items can be good, as long as the total intake doesn't end up being more than one unhealthy item.
Lean toward items with vegetables, and though they're often hard to find at these places, vegetarian items when possible. These dishes are usually more health-friendly, they're nutritionally adequate, and they're usually not (as) steeped in grease. And if items are offered grilled or steamed, those are obviously a better option than their fried counterparts.
Aside from meals, beverage and dessert choices can also be made healthier. Of course soda is the mainstay beverage of fast-food counters, but it's easy enough to get water or unsweetened iced tea; add lemon to them if available. If you're watching your weight, you may be skipping dessert, but it's nice to have options if you've got a sweet craving. And even the fastest of fast-food places offer a fruit option; we won't pretend that it'll be as fun as a giant shake or sundae, but at least we have more choices now. Nearly every fast-food chain posts nutritional information on their websites and makes it available at their restaurants, so be sure to take a quick look if you want to get the inside scoop on what you're eating.
We checked out the nutrition information for just about all of the leading fast-food brands in search of the healthiest items on their menus. Read on to learn what we discovered.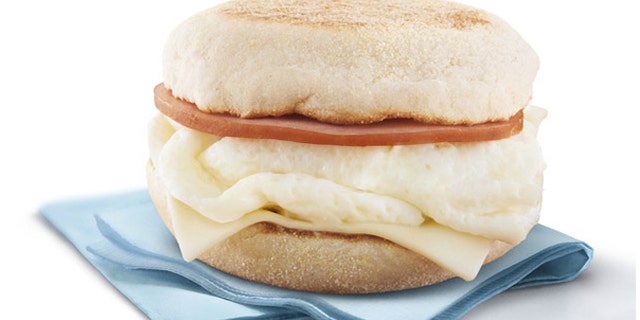 1. McDonald's
This burger giant boasts "Favorites Under 400," though that count is before sauces or any condiments.
If you're there at breakfast, there's now an Egg White Delight McMuffin with white Cheddar, at 250 calories, 7 grams fat, and 18 grams protein; a medium nonfat latte is 130 calories. Later in the day, try the Premium Caesar Salad at 90 calories, 4 grams of fat, and 7 grams of protein. They've also got those apple slices that seem popular as a fast-food healthy option; theirs are 15 calories.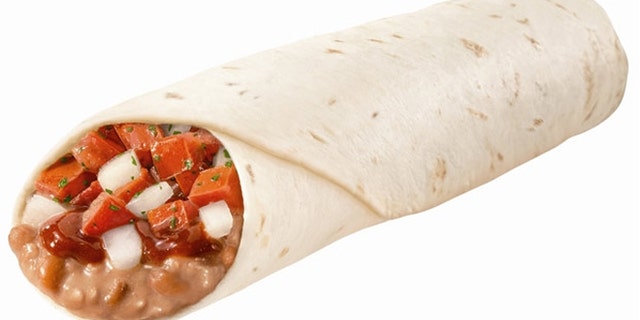 2. Taco Bell
Taco Bell's Fresco Menu (their version of a diet menu) has seven items that are 350 calories or less, and range between 3.5 grams of fat (the Fresco Chicken Soft Taco) and 9 grams (the Fresco Bean Burrito). On the regular menu, a Chicken Soft Taco has 6 grams of fat and 170 calories, and the regular Bean Burrito is 11 grams of fat and 370 calories. Fat-free pico de gallo is a good choice over other toppings.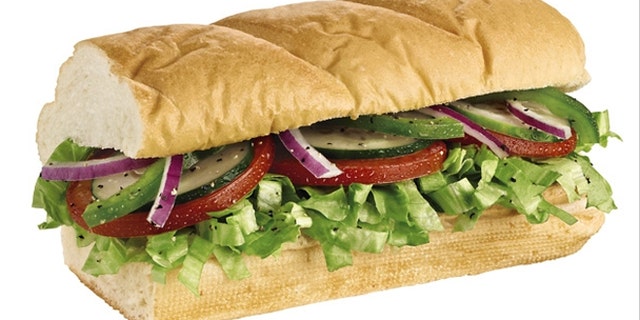 3. Subway
Subway isn't big on grease, so it isn't surprising that they would have several selections that would fit in the "healthier" category — many sandwiches and salads are 6 grams of fat or less. A 6-inch Veggie Delite sub is a low-sodium item that can be loaded with tomatoes, green peppers, black olives, and other vegetables; total fat starts at 2.5 grams and 230 calories, and of course then depends on the dressing you choose.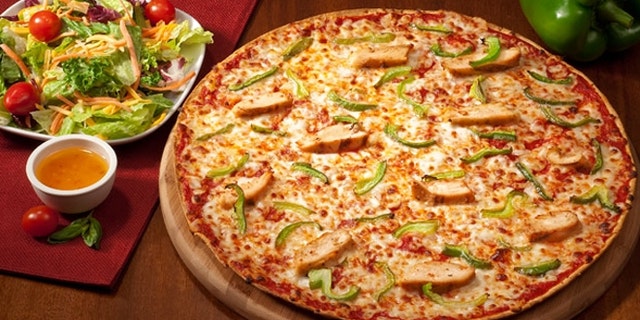 4. Domino's
People like to joke that pizza's healthy because it has vegetables (tomato sauce) and dairy (cheese). And that's not entirely untrue. For a slice — 1/8 of a large pizza — of Thin Crust (115 calories, 4.5 grams of fat) with marinara sauce (add 12.5 calories, 1/3 gram of fat) with cheese, (66 calories, 5 grams of fat)... that's (doing some calculating here)about: 193.5 calories and 9.8 grams of fat. There's also about 7 grams of protein... so there is that.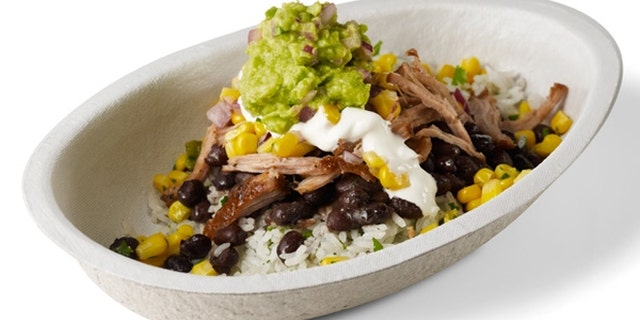 5. Chipotle
Burrito bowls and salads are your best bets here. For instance, the Chipotle salad with barbacoa, black beans, and fresh tomato salsa is 320 calories, has 8 grams of fat and 33 grams of protein. A steak burrito bowl with brown rice, black beans, fresh tomato salsa, and lettuce (the "bowls", by the way, can contain rice, beans, salsa, cheese, guacamole and sour cream... all the fixins' without the tortilla) is 495 calories, has 11.5 grams of fat and 41 grams of protein.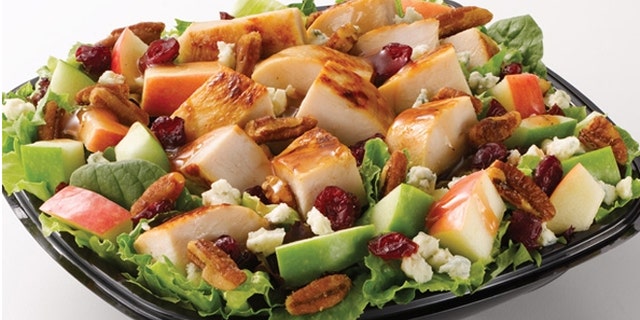 6. Wendy's
Skip the burgers and go for the Garden Sensations Salads, which come in full or half-size options. The Apple Pecan Chicken Salad, half-sized, is 340 calories and 18 grams of fat, with 19 grams of protein and 4 grams of fiber. A small chili is 180 calories and 5 grams of fat, alongside 13 grams of protein and 4 grams of fiber. If you simply must have a Frosty, a small chocolate one is 290 calories, 4.5 grams of fat, and has 8 grams of protein.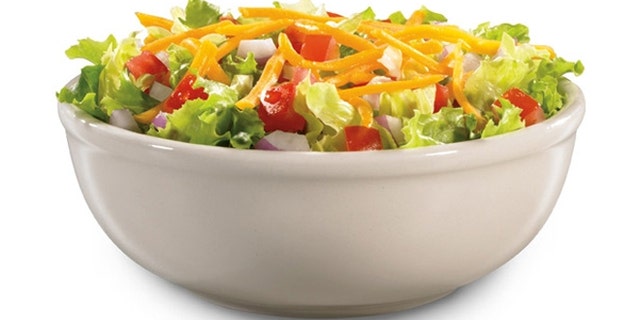 7. Arby's
The healthiest thing, frankly, at this meat-oriented vendor would be the Chopped Side Salad, with 80 calories and 5 grams of fat, plus 5 grams of protein. There's also a list of "Market Fresh" items here, which might sound healthier but the stats don't point that way, with the sandwiches between 25 and 35 grams of fat. Better to go with the Roast Beef Classic at 14 grams of fat and 360 calories; it's also got 25 protein grams.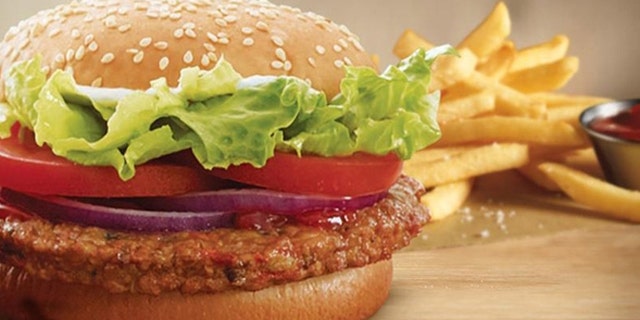 8. Burger King
The BK VEGGIE Burger actually has less fat (7 grams, without cheese or mayo, and 20 grams with them) and calories (320 without either, 450 with both) than their Chicken Apple & Cranberry Garden Fresh Salad with Tendergrill, which is 560 calories and 30 grams of fat! Another lower fat-and-calorie choice is the Ranch Grilled Chicken Wrap, with 350 calories and 18 grams of fat.
See all 16 fast-food chains at The Daily Meal
More from The Daily Meal
America's Unhealthiest Fast Food Items
10 Best Non-Burger Fast Food Dishes
The World's Strangest McDonald's Commercials