How to decorate cupcakes like a pro
It's National Cupcake Day and while there are plenty of cupcake bakeries dotting street corners across the country, why not try your hand at making your own?
Of course there are a few do's and don'ts when it comes to filling, frosting and topping these sweet treats. Chew on This got the inside scoop on what it takes to make a really great cupcake from two Molly's Cupcakes bakers at their New York City shop-- Lead Cake Decorator Midge Scully and Bimini Wright, Store Manager and Sprinkle Captain.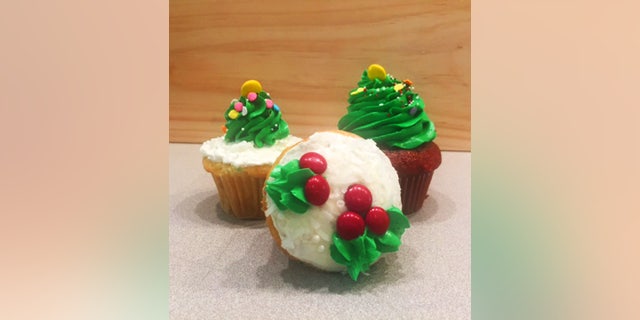 1. Don't overfill your cupcake.
There may be tons of gadgets and one-trick baking tools that promise perfectly filled cupcakes, but Wright says most of them are waste of money--and all you really need is a "kitchen knife and a cupcake."
Cut a cone-shape hole in the top of your cupcake, about an inch in diameter, remove and set aside.  (You can use this for cake pops later.) When it comes to fillings, pretty much anything goes – from jam to jelly, peanut butter or mousse, even thickened up cake batter. Use a piping bag to fill up the hole, almost to the top, then just frost over to cover.
"As far as filling goes, you want to make sure that it has a thick enough consistency that's not going to spread out into the cupcake and get soaked up. It can't be too thin," says Scully.
2. Don't over frost your cupcake—unless you want to.
"You usually want to use a piping bag," says Scully. The best way to frost a cupcake, according to Molly's, is to first create a circle outline of frosting about a quarter inch from the edge to avoid any spillage and create a neater look. Then fill in the circle. Piping a perfectly even ring can take some practice, so novice bakers can try creating swirls on parchment paper before moving onto their cupcakes.
When it comes down the right cake-to-frosting ratio, Wright says it really comes down to what the eater wants. But if your frosting looks unwieldy, you've definitely gone too far.
"It all comes down to personal preference. You don't want to pile too much frosting on a cupcake because they will tend to topple over."
And if your frosting is especially sweet, like a basic buttercream, better to air on the conservative side to avoid a major sugar rush.
3. Do experiment with different flavors—just  don't go overboard.
"Any toppings can work, it just comes down to combinations," says Wright. For example, using different candies like M&Ms, gummy bears, even mashed up candy bars can all be great cupcake additions—but not all at the same time.
Adding too many different textures can ruin the mouth feel of the cupcake and overpower the cake flavor.
Some of Scully's favorite combinations include crushed up Butterfingers sprinkled on a peanut-butter filled chocolate cupcake, coconut flakes and edible pearls on any plain cupcake, and fresh raspberries on a raspberry jam-filled chocolate cupcake.
4. Do play around with different holiday decorations.
Although many people enjoy a great cupcake year round, the holidays are an especially festive time to get creative with cupcake décor.
"Pretzels make really cute reindeer antlers, just add a red M&M for Rudolph's nose. Snow can be made using coconut flakes or white sprinkles," says Wright.
Mini candy canes can also add a festive crunch to Christmas cupcakes. If you're looking for something fancier, Scully recommends pearlescent, gold or silver edible balls available at most cake decorating stores.
And once you've perfected your piping skills, impress guests with a hand-piped buttercream tree using a star-tip nozzle. Top with a yellow M&M to represent a star and use different size sprinkles to represent lights and ornaments.
5. Do show off your decorating skills—but keep in mind not every design travels well.
Homemade goodies can be a great way to impress holiday party hosts, but if you need to travel a long distance, consider bringing some basic tools along and assembling them on site.
"The higher the cupcake design, the more likely it is to topple over," says Scully of cupcake toppers like  hand-piped buttercream Christmas trees. Stick with flatter designs and consider adding sprinkles or candy upon arrival.